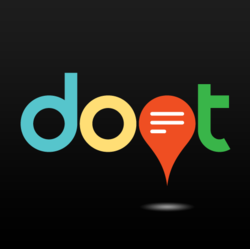 Doot provides a great way to deliver the information that you need, where and when you need it.
San Jose, CA (PRWEB) September 27, 2011
Doot is a fun and personal way to share messages with friends. With Doot, users can leave messages anywhere in the world for their friends to discover when they are in or near the same place. Doot recently won the PitchSF 2011 People's Choice MVP award from among 90 startups (http://www.pitchevent.com).
Doot is all about capturing life's moments and discoveries, and sharing them with others at places where they are the most relevant and fun.
"Doot can be used in many different ways. You can leave a suggestion at a restaurant for your friend to discover later or drop a note for your special someone at their favorite coffee shop. You can also remind your spouse to put the clothes in the dryer or simply capture your experiences at a specific location and re-live them the next time you are there," says Doot Founder and CEO, Srujan Akula.
"With traditional communication channels like Email/SMS or Facebook, more often than not, messages like these get lost in the information clutter. Doot provides a great way to deliver the information that you need, where and when you need it. Doot makes place-based discovery relevant and fun," says Akula.
Unlike existing applications that provide people with information when they know what they are looking for, Doot is a new approach to local discovery in which users share and uncover the unexpected; discovering information that has been left for them at a specific location.
Users can leave private Doots for their friends or public Doots that anyone at that location can see. They can also choose to leave Doots for others to discover around their current location or search for any location in the world to leave Doots. Push notification capabilities inform users when their friends have left Doots nearby for them to discover.
Doot uses Facebook Connect for quick and easy sign-up. "We don't want our users to create yet another social network with yet another password to remember. You immediately have friends to start sharing Doots with because we use Facebook to authenticate," says Akula.
"My passion is to build apps that bring a smile to our users. The current version of Doot is the first step towards that goal with many more great features being added in the coming months. We also have an Android version in beta that will be launched soon," says Akula.
About Doot
Srujan Akula, srujan(at)dootme(dot)com, 408 425 9217
Founded in March 2011, Doot is a San Jose-based startup that is launching the first version of Doot in the app store on Tuesday, Sep 20th, 2011. For more information, please visit http://www.dootme.com.
You can download Doot on the Apple app store at http://itunes.apple.com/us/app/doot/id463295805?ls=1&mt=8
###