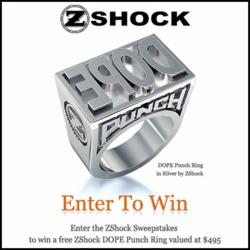 Miam, FL (PRWEB) September 07, 2012
ZShock Jewelry Company is well known for designing unique jewelry that is favored by musicians, athletes, actors, celebrities and rappers is having a September Sweepstakes where they are giving away one A DOPE Punch Ring from ZShock's Punch Ring Series. ZShock is famous for customizing and icing out Casio G-Shock watches with diamond bezels, is known for great jewelry designs in various metals such as sterling silver, 14k gold, 18h gold and platinum. Now ZShock is inviting its followers to participate in various promotions and giveaways that showcase a signature piece of ZShock jewelry as a free prize.
The ZShock Punch Ring Collection varies from customized orders where customers can have their own saying and phrases as well as standardized terms embossed atop an over-sized and aggressive looking ring. The concept behind the Punch Ring is that it leaves an imprint of the design on any surface that is struck with the ring. The collection can be made in Sterling Silver or 14k yellow gold or white gold, customers can also take the design to the next level by adding diamonds to their Punch Ring. ZShock has made custom Punch Rings for many celebrities that include the likes of Chris Brown, Diggy Simmons, Sean Kingston, Big Sean, Soulja Boy, and GOOD Music's Teyana Taylor.
The DOPE Punch Ring in Sterling Silver will be the item that is given away in ZShock's September Sweepstakes, with a value of $495. ZShock will be promoting this sweepstakes via many channels including their website at ZShock.com, Twitter, Facebook and Pinterest. This sweepstakes contest will run through the entire month of September 2012, a winner will be selected on October 1, 2012. ZShock will announce the winner via ZShock's official Twitter and Facebook pages. No purchase is necessary and all customers that enter to be on ZShock's VIP Program are automatically entered into the ZShock September Sweepstakes.
Various entry pages will be available for different audiences that want to participate in this sweepstakes. Entrants can go directly to the ZShock.com site, the ZShock Facebook page, The ZShock Twitter page and ZShock's Pinterest.
About ZShock:
ZShock is an e-commerce jewelry manufacturer specializing in unique and affordable jewelry with a street and urban flair. ZShock specializes in customizing accessories with diamonds or man made gems set in sterling silver, 14k, 18k gold and platinum. With Corporate headquarters located in South Florida. ZShock ships its jewelry and accessories to customers worldwide. To find out more about ZShock, visit them online at http://www.ZShock.com or call toll free 1-877-797-4625 (1-877-7ZSHOCK).