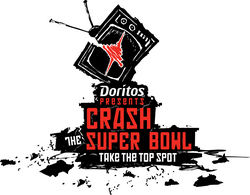 Time after time Doritos fans have shown us they have the passion and creativity to compete with seasoned professionals in any industry, and they are literally about to give Madison Avenue a run for its money
Plano, Texas (PRWEB) January 9, 2009
The Doritos brand announced today that five finalists have been selected from nearly 2,000 entries in the third annual Doritos "Crash the Super Bowl" challenge with the stakes this year bigger and bolder than ever. Contestants are not only competing to have their self-made Doritos commercial air during the chip brand's Super Bowl XLIII ad airtime, they also are shooting for a $1 million bonus prize if they make history by beating the ad pros by garnering the top spot in USA TODAY's annual Ad Meter.
The five finalist ads (in alphabetical order) are:
1. "Free Doritos" by Joe Herbert of Batesville, Ind.
2. "New Flavor Pitch" by Oren Brimer of New York, N.Y.
3. "Power of the Crunch" by Eric Heimbold of Venice, Calif.
4. "The Chase" by Chris Roberts of Burbank, Calif.
5. "Too Delicious" by Michael Goubeaux of Los Angeles, Calif.
The winning ad will not be revealed to the world - or the five finalists - until it airs on national television during the first quarter of the Super Bowl broadcast. It is now up to people nationwide to vote for the homemade ad they want to see air during the Super Bowl XLIII broadcast on February 1, 2009 on NBC, and potentially become the first-ever consumer-created commercial to rank No. 1 in the USA TODAY Ad Meter.

Fans can place their vote and read official contest rules by visiting http://www.snackstrongproductions.com
Doritos is giving away a pair of Super Bowl tickets to online voters every day of the voting period between January 5, 2009 and January 25, 2009
While at the contest Web site voting, visitors also can enjoy all 1,961 of the creative and entertaining submissions that came in from every corner of the country
"Time after time Doritos fans have shown us they have the passion and creativity to compete with seasoned professionals in any industry, and they are literally about to give Madison Avenue a run for its money," said Ann Mukherjee, group vice president, marketing, Doritos. "We want nothing more than to give one of our five finalists $1 million the day after the Big Game. And, with the five incredible ads we have vying for the Super Bowl stage, we are confident America's going to pick a winner."
The Doritos challenge kicked off in September and was met with thousands of unique entries that celebrated the spirit and love for the Doritos brand. The five finalists - determined by a panel of Doritos judges - will each be awarded $25,000 and a trip to attend Super Bowl XLIII in Tampa Bay, Fla. in a private luxury suite at the game, where they will tune in to learn for the first time which ad won when it airs for a worldwide audience.
The USA TODAY Super Bowl Ad Meter tracks the second-by-second responses of a panel of viewers to ads during the national broadcast of the Super Bowl and ranks them favorite to least favorite. Created in 1989, USA TODAY's Ad Meter has been regarded as the most influential Super Bowl ad rating in the advertising industry.
The "Crash the Super Bowl" campaign is the evolution of the Doritos brand allowing consumers to be in control. In 2007, the Doritos brand aired its first two consumer-created commercials during Super Bowl XLI and kicked-off its first-ever fan-generated Doritos brand television ad campaign. Earlier this year, the campaign continued when Doritos launched the music career of one of its talented fans by airing her original song in a music video during its Super Bowl XLII air time.
In addition, in 2007 the brand put consumers in control with programs that invited Doritos fans to determine which of two new flavors survived on store shelves and which one was pulled, and asked them to name a new mysterious flavor of Doritos tortilla chips. Later that year, the Doritos "Unlock Xbox" challenge empowered fans to design the first-ever consumer-created Xbox LIVE® Arcade game, which is now available nationwide.
In 2008, "THE QUEST" campaign gave Doritos lovers a unique opportunity to choose how and when to get engaged in a multi-faceted program that had online and real world challenges. Fans were in control of how they participated in "THE QUEST" in everything from guessing a mystery flavor to solving virtual puzzles and competing in real-life adventures. In addition, Doritos put control into the hands of its consumers through a programming partnership with MTV.
Frito-Lay North America -- the official salted snack of the NFL -- is the $11 billion convenient foods business unit of PepsiCo, which is headquartered in Purchase, NY. In addition to Frito-Lay, PepsiCo business units include Pepsi-Cola, Quaker Foods, Gatorade and Tropicana.
# # #