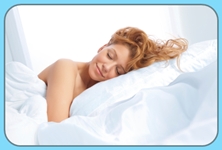 all the sleep education programs in the world won't help someone who can't be made comfortable on their dorm bed
(PRWEB) July 25, 2012
It's long been known that good sleep and good grades in school go hand in hand. A college dorm mattress topper can turn a hard, uncomfortable college dorm mattress into the vehicle for a great night's sleep and, in turn, the vehicle for better grades in college.
Dorm room bedding is high on most college students shopping lists but not all of those shoppers think about trying to make that rock hard dorm room mattress more comfortable. Sleeping on a mattress that is uncomfortable will result in poor sleep which can then lead to poor grades.
Studies have shown that students perform better when they have proper nutrition coupled with the right amount of sleep. These studies have prompted some schools to implement measures to try and enhance sleep for their students.
Duke University in North Carolina has a place called The Oasis where students can enjoy an environment of floor to ceiling windows, massage chairs, a water fountain and an overall peaceful place to study or relax in preparation for an early turn in.
The University of Maryland offers educational programs dealing with sleep disorders while Rice University in Houston has a campaign going to encourage regular bedtimes for their student body.
The University of California at Los Angeles is doing a 10 week course aimed at helping students who deal with insomnia.
"All of these programs seem to ignore what can be the most common cause of sleep deprivation…an uncomfortable mattress." stated Harmon. "We will be implementing measures to educate college students and their parents on the benefits of a college dorm mattress topper to improve sleep and grades."
"It just makes sense to us that all the sleep education programs in the world won't help someone who can't be made comfortable on their dorm bed so students must begin with a comfortable mattress and then be taught about all the other stuff that can affect their sleep and their grades."
You can get more information on the Memory Foam Topper Store website or by visiting College Dorm Mattress Topper