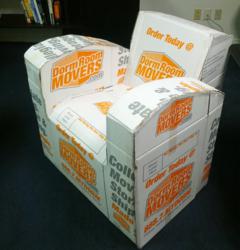 In 2010, Americans threw out 26.74 million tons of recyclable paper material
Scottsdale, AZ (PRWEB) August 31, 2012
A busy delivery season is coming to an end as schools across the nation are opening their doors for the start of the fall semester. This year alone Dorm Room Movers stored, shipped, and moved thousands of boxes for students across the nation. According to the EPA Figures and facts sheet(1), in 2010, Americans threw out 26.74 million tons of recyclable paper material. Knowing the potential environmental impact which their boxes could have, the company has always taken initiative to promote the reuse and recycling of boxes and other recyclable materials. Since 2008 Dorm Room Movers has been working with boxcycle.com, so that every box sent to their customers has a friendly reminder to reuse or recycle their boxes. Now they are going above and beyond to not only take an extra step in promoting reuse, but also to give back to the students who are shaping our country's future.
Dorm Room Movers will be hosting a national scholarship competition named Boxes to Bucks. The scholarship requires each applicant to design piece of furniture or dorm room decoration that's made entirely out of used cardboard. "The idea is to create something useful and valuable from a box that would normally just be thrown away or in the best case recycled." commented Leor Lapid, Co-Founder of Dorm Room Movers. "We built a chair entirely from used boxes and it gets used everyday in my office," added Lapid.
The Boxes to Bucks award is currently a $500 scholarship, but as additional sponsors join in it will be increased and may be awarded to multiple students. Students are encouraged to use the branded Dorm Room Movers boxes from their Summer Storage or Ship to School services but may also use any other used cardboard boxes. More information about the Boxes to Bucks scholarship can be found here
For sponsorship opportunities contact info(at)dormroommovers(dot)com
About Dorm Room Movers:
Dorm Room Movers was founded in 2007 with the goal of simplifying moving, storage and shipping for college students everywhere. With its all-inclusive Summer Storage, Ship Home, Ship to School, Study Abroad Storage and Local Move services, the company has assisted thousands of students across the country. Since inception, the company has shown rapid and consistent growth, adding new services and markets each year.
Sources:
(1) Environmental Protection Agency. 2011. http://www.epa.gov/osw/nonhaz/municipal/msw99.htm