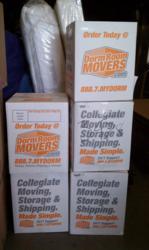 I really don't know what we would have done without the service!
Scottsdale, AZ (PRWEB) March 27, 2012
With the numbers trending towards more than double the volume from the previous year, the Dorm Room Movers office is bustling in preparation for this years college storage season.
The company launched their services at over 20 new schools this year and the customers are pouring in. Without their college storage services, students must go through the hassle of finding qualified movers, secure & climate controlled storage facilities near school or hauling all of their items back home for the summer break. This is usually the last thing that students want to do while they're in the midst of studying for finals. Since parents aren't in the area it becomes difficult for them to help screen the companies and coordinate the details.
Dorm Room Movers makes the whole process very simple with their 24/7 customer support line, online ordering system, professional and insured movers and climate controlled storage.
Parents from around the country are thankful for this service. Marilyn S., a parent from University of Arizona that used the services for two years commented, "I really don't know what we would have done without the service! It made move out so much easier for my daughter during finals." Marilyn has been so happy with the services that she added, "We will continue to use the service for shipping until she graduates."
In addition to the 30 schools at which the company provides full service moving and storage, they recently announced a ship home service which is available at all schools nationwide through its partnership with UPS.
For more information about their moving storage & shipping services visit http://www.dormroommovers.com
About Dorm Room Movers:
Dorm Room Movers was founded in 2007 with the goal of simplifying moving, storage and shipping for college students. With its full service Summer Storage, Ship Home, Ship to School, Study Abroad Storage and Local Moves, the company has assisted thousands of students across the country. Since inception, the company has shown rapid and consistent growth, adding new services and markets each year.