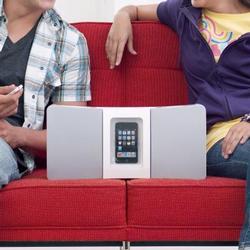 Brookstone is all about using new gadgets and inventions to live smarter and enjoy life
Merrimack, NH (PRWEB) August 10, 2009
With each Brookstone purchase made between August 9 and September 12, 2009, customers will be eligible to have their names entered for a chance to win one of 10 Ultimate Dorm Room prize packages, each with a retail value of more than $1000. No purchase is necessary to enter or win the sweepstakes. A purchase will not increase your chances of winning. All federal, state, local and municipal laws and regulations apply. Void where prohibited. For Official Sweepstakes Rules, visit Brookstone.com or a Brookstone store.
"Brookstone is all about using new gadgets and inventions to live smarter and enjoy life," says Brookstone President and CEO Philip Roizin. "Over the past few years, more and more students and their parents have been heading to Brookstone before packing up for school. For our Ultimate Dorm Room Sweepstakes, we've put together a collection of our most popular dorm-life upgrades."
Items in the Ultimate Dorm Room prize package include:
Boombox Portable Music System for iPod®
Bring this portable speaker system for iPod, and suddenly any gathering's a party. Big, stereo sound. Rechargeable. Protects your iPod, and even flips on its side for watching widescreen videos. $129.95 (623405*)
e-Pad® Padded Laptop Desk
Students are always on the move. e-Pad® makes it easy to work on a laptop anywhere, with a built-in handle, sturdy surface and comfortable padded base. $39.95 (595645)
My Desk Fan
Very cool--in more ways than one. This fan uses an advanced, aerodynamic design with open, finger-safe blades to create a big breeze anywhere. Assorted colors. $39.95 (621888)
Better-than-Down® Comforter
Hypoallergenic, machine-washable bedding features an ultra-soft, microfiber shell and filling. It's cozier, softer, loftier--Better than Down. $49.95 (576454)
i-need® Lumbar Massage Cushion
Sitting for hours over books can cause all sorts of aches. Our fun, compact massager fits into any chair and has 4 built-in rotating Shiatsu massagers to soothe tense study muscles. $59.95 (583203)
Tempur-Pedic® Swedish Neck Pillow™
The perfect material and the perfect shape--for a perfect night's sleep. Shaped to align the spine, and made with heat-sensitive TEMPUR® material. $99 (175414)
Microbeam® Keychain Flashlight
Named the best overall keychain flashlight by The Wall Street Journal! Powerful LED bulb can be seen up to a mile away, and lasts over 100,000 hours. $20 (349324)
n•a•p® Cuddle Blanket
Makes anywhere feel a little closer to home. Ultra-plush blanket, in soothing NapSoft® material. Machine-washable. Assorted colors. $45 (532440)
iDesign® Power Speaker Stereo Dock for iPod®
The compact speaker dock for iPod with the great big sound. Sleek, contemporary design. Acoustically tuned speaker cabinet, full-range stereo speakers. $79.95 (623116*)
WeatherCast Wireless 5-Day Forecaster
Umbrella, sunglasses, or extra-heavy coat? Wireless forecaster displays updated 5-day local weather for 152 U.S. cities. No PC or subscription needed! $89.95 (588608)
Moshi Voice-Controlled Alarm Clock
The coolest alarm clock on campus. Moshi responds to 12 basic voice commands (like "set alarm"). For time, temp and more, just ask Moshi! $49.95 (622373)
Stainless Steel Water Bottle
Better for people. Better for the planet. 18/8 food-grade stainless steel bottle is tough, light, reusable and BPA-free. Dishwasher-safe. Assorted colors. $15 (629949)
My Life 8" Digital Picture Frame
Digital Photo frame keeps loved ones close. Holds 3,500 photos--and also plays MP3s and short videos. With quick-access controls, built-in clock and more. $99.95 (630855)
Coffee for One
The perfect remedy for all-nighters and early classes. This rugged, stainless steel coffee maker brews the perfect cup in its own travel mug--in just four minutes. $39.95 (515395)
Dash Rolling Hardside Luggage (3-Piece Set)
These super-nimble hardside cases make it easy to Dash through campuses, bus terminals, and airports. Set includes 17", 21" and 24" cases. Starting at $79.95. (576272)
About Brookstone
Brookstone, Inc., is an innovative product development company and multi-channel retailer of unique gifts. Brookstone® operates 310 stores nationwide and in Puerto Rico, an e-commerce site at Brookstone.com, and publishes catalogs year-round. Typically located in high-traffic regional shopping malls and airports, Brookstone stores feature unique and innovative consumer products.
*iPod not included. iPod is a trademark of Apple Inc., registered in the U.S. and other countries. "Made for iPod" means that an electronic accessory has been designed to connect specifically to iPod and has been certified by the developer to meet Apple performance standards. Apple is not responsible for the operation of this device or its compliance with safety and regulatory standards.
###