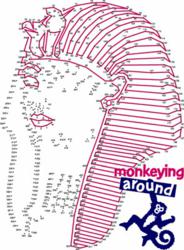 Rochester, NY (PRWEB) July 31, 2012
As The Greatest Dot to Dot Super Challenge Book 8 was being released to the public, fans were already asking for the next book in the series, to which dot-to-dot puzzle creator David Kalvitis replied that it would be available, "sometime?" The just released Greatest Dot-to-Dot Adventure Book 1 took Kalvitis over a year and a half to create which makes some fans wonder, what exactly goes in to the puzzle publishing process? Monkeying Around's new video solves part of the mystery by showing the careful printing techniques that goes into making the Greatest Dot-to-Dot Books in the World.
Featured on YouTube, Monkeying Around's new video takes you behind the scenes and reveals the meticulous procedure David Kalvitis oversees when his puzzle books go to the printer. Kalvitis chose Pinnacle Printers, a local printer based in Rochester, NY that he regularly visits to follow the book throughout the entire printing operation. To ensure the quality of his product, Kalvitis visits the printer during almost every phase of the book making process.
This careful supervision by Kalvitis in conjunction with his printer ensures no errors occur, for even a small mistake may ruin a puzzle. For instance, when a regular text-only book has an error in the printing of the text, it generally doesn't affect the story. But when making a dot-to-dot puzzle book, if a number is accidentally erased or symbols are switched, it can greatly affect the solving of the puzzle.
The video shows the progression of The Greatest Dot-to-Dot Adventure Book 1 as it goes through the entire printing process.
To view the video visit http://youtu.be/PvQdnjSOzk4
For more information visit http://www.monkeyingaround.com/blog
About Monkeying Around:
Dot to dot publisher, Monkeying Around, was founded in 2000 by puzzle creator David Kalvitis. Kalvitis is a lifelong puzzle and game fan, has a Fine Arts degree from Syracuse University and previously operated a graphic design business in Upstate NY for 13 years. Since 2000, Monkeying Around has been dedicated to offering innovative dot-to-dot products that will delight and entertain children and adults of all ages. Monkeying Around produces "The Greatest Dot-to-Dot Books in the World," a challenging collection of unique dot-to-dot surprises and variations. The company also publishes "The Greatest Newspaper Dot-to-Dot Puzzles," pocket and travel sized collections of weekly syndicated puzzles, in the pages of USA newspapers. In 2007, the first of four "Greatest Dot-to-Dot Super Challenge" books was introduced. David Kalvitis is currently working on the next Greatest Dot-to-Dot Adventure Book.
Contact:
David Kalvitis
PO Box 10131
Rochester, NY 14610
info(at)monkeyingaround(dot)com
800-553-4300