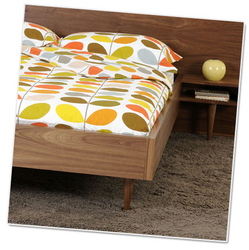 Dotmaison will be offering 50% off Orla Kiely bedding, a different design each week.
(PRWeb UK) October 25, 2010
What do you get when you cross social networking with Internet shopping? Social shopping.
Social shopping is a brand new phenomenon. As a nation of shoppers who can't resist a good bargain, this latest trend is more than just a passing craze, it's a whole new way of shopping. Buying on the Internet will never be the same again.
Social shopping is very straightforward which is what makes it so appealing. Internet shoppers simply recommend their favourite products, or products that are discounted to their friends via their social media networks such as Facebook, Twitter etc. So rather than buying products purely on the basis of what a company says about its products, people are now buying items based on what their friends say. It really is that easy. It's a win, win, win situation all round.
Part of this new social shopping phenomenon is Group buying where shopping websites offer massive discounts on specific products depending on the number of people that sign up to the deal. If enough people sign up, the deal is on and shoppers get products at a greatly reduced price.
Dotmaison is launching Dotmaison Groupbuy in November – providing customers with an amazing new way to shop for their favourite home accessories. A new product will be featured every week selling at unbeatable prices. Throughout the month of November Dotmaison will be offering 50% off Orla Kiely bedding, a different design each week.
All you need to do is sign up to the Dotmaison Groupbuy email alerts; sign up to a deal that you like; tell all your friends and hey presto, you have a great product at an amazing price.
November 1st Deal: 50% off Orla Kiely's Multi Stem Print Bedding
Orla Kiely's instantly recognisable patterns have created something of a following and demand for her products is simple staggering. Be one of the lucky ones and snatch up a great Orla Kiely deal with this Multi Stem Print bedding collection through Dotmaison Groupbuy. Available at an unbelievable price, the gorgeous bed linen is made from 100% percale cotton. Wonderful to the touch, the crisp duvet covers and pillows have a cool, comforting texture that aids sleep and relaxation.
For more information:
Call - 0207 923 7840
Email - groupbuy(at)dotmaison(dot)com
# # #