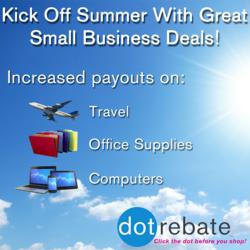 We had a small business owner from Boise, Idaho write to us recently to say that he saved over $1,200 last year just by using DotRebate for all of his online business purchases
Kansas City, MO (PRWEB) May 23, 2013
Despite the fact they already offer some of the best cash back rebates available to online shoppers, DotRebate has decided to up the ante and give back even more than usual to it's small business members.
"It's hot out, and we wanted to offer some hot deals to our members this summer," said founder and CEO Steve Gray. "We also wanted to show our gratitude to the many small business owners who already utilize DotRebate to make travel reservations and buy office supplies, electronic equipment and promotional goods," he said.
"We had a small business owner from Boise, Idaho write to us recently to say that he saved over $1,200 last year just by using DotRebate for all of his online business purchases. We love to hear stories like that and hopefully we'll hear more of them thanks to these great summer rebates we're offering," Gray said.
Not only existing members will be eligible for the double rebates. "Anybody who signs up between now and August will receive these same great deals, and on top of that, they will receive a $10 welcome bonus for their first purchase over $40 from any store," Gray said.
For a small business owner, these savings can be important and substantial. Prior to this promotion, DotRebate was paying out an average cash rebate of $5.70 on a $100 purchase. According to the PEX Card SMB Benchmark Expense Survey of small businesses from December 2012, the average annual cost of equipment, travel, promotions and supplies for a small business in 2012 was $126,000. At a rate of $5.70 in cash back for every $100 spent, that's $7,182 in free money back for an average sized small business that utilizes DotRebate when they shop buy online.
"Membership is always free and we do not collect our members' credit card information because they buy direct from our partner stores, not from us. We simply collect commissions from our partner stores in return for sending buyers to their store, and then we pass almost all of that commission back to our member as a cash back rebate," Gray said.
"In addition," Gray added, "our rebates can be stacked on top of store sales and promotions, plus credit card rewards programs." Add it all up and the savings are just too good to pass up.
Visit DotRebate.com today and sign up for free to start earning cash back on online purchases from over 1,100 stores.