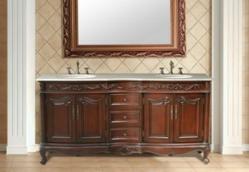 A lot of factors go into the bottom line of pre-made bathroom vanities: what materials they're made of, how they're manufactured, how they're finished, and how they're sold, all of that make a difference in price.
(PRWEB) July 24, 2012
HomeThangs.com – the Home Improvement Super Store – has made their goal to deliver the right product to the consumer; with that in mind, shopping and home design tips, as well as special product selections are being introduced.
Major bathroom remodels are never cheap, and redoing a big bathroom is even more expensive. But those on a tight budget don't necessarily have to sacrifice quality, or even the scope of the project to get the job done. For any kind of product, chances are there's a whole range of similar items in different price ranges. This is especially true of bathroom vanities, including larger (and more expensive) double vanities. The reason why is because a lot of factors go into the bottom line of pre-made bathroom vanities: what materials they're made of, how they're manufactured, how they're finished, and how they're sold.
HomeThangs provides a tip sheet as well as a product selection to help consumers find affordable large double sink bathroom vanities in the same sophisticated styles, but at a lower price.
1. Solid Wood Framing
One thing that should not be skimped on when shopping for affordable double bathroom vanities is solid wood framing. It doesn't particularly matter what kind of wood, most likely it's some variety of hardwood maple or oak, whatever happens to be available. Solid, natural hardwood framing creates the best foundation for a bathroom vanity, and can help prevent warping and wear and tear over time. Something like Vesta Double Sink Vanity GM-3210-72-TR by Stufurhome is made with a composite wood paneling (either MDF or plywood), but has a solid wood framing for the highest degree of structural integrity.
2. MDF Or Plywood Panels
While solid wood framing is an important marker of quality, one of the most dramatic ways to reduce the cost of a bathroom vanity is to swap from solid wood to fiberboard. No matter what kind of wood, natural, solid wood is always going to be more expensive. MDF (medium density fiberboard) and plywood are both made from salvaged wood – basically, the small trimmings, or even sawdust left over when wood is processed – which makes vanities with paneling made out of these materials much, much more affordable. Many manufacturers go to great lengths to replicate the look and feel of natural wood in their MDF vanities, such as Catherine Double Sink Vanity GM-3211-62-BG by Stufurhome come pretty close despite the significant cost reduction.
There are several advantages to vanities made of a composite rather than a solid wood. Not only will it mean more affordable double bathroom vanities, but they're arguably also more durable. While "real" wood is considered very desirable in everyday applications, in the harsh, humid, temperature-fluctuating environment of a bathroom, even well sealed wood is prone to warp, stain, fade, and even crack over time. MDF and plywood, on the other hand, undergo extensive chemical and thermal processes just in the formation of the boards, which makes them incredibly resilient. Then, once the vanities are assembled, they're typically very thoroughly finished and sealed, making them waterproof and highly warp resistant. Finishes that would obscure the natural grain of "real" wood could make MDF or plywood vanities like this Corona Double Sink Vanity GM-6124-72-BG by Stufurhome last a whole lot longer.
3. "Hand Made" = expensive
Craftsmanship costs, and while ornate hand carved detailing and painstakingly hand-finished wood are ostensibly nice to have, it doesn't have to be made with traditional methods. Saturn Double Sink Vanity GM-3323-72-CM by Stufurhome, for example, has all the beautiful carved floral detailing expected from a period-inspired vanity. Although instead of being "carved," the paneling is made of MDF, smooshed into a hand carved mold, so when it's done, it has all the beautiful detailing of an artisan-made piece, but at a lower cost.
4. Eco Friendly Tax Breaks, Rebates and Credits
Depending on city and state, and some of the other elements in the bathroom, purchasing a more affordable bathroom vanity made of MDF or plywood could actually help qualify the bathroom as a "green remodel." That could end up getting 10% or more taken off the top of the total cost of the remodel.
5. Yes to Package Deals and Bathroom Vanity Sale Offers
Buying from a whole vanity set from one place – vanity, sink, counter, and even faucets – in a single package is a spectacular way to dramatically cut costs. Manufacturers like Stufurhome and Silkroad Exclusive have a relatively limited selection of counter top materials, but all of them are 100% natural stone – granite, marble, or travertine.
Even in a very large bathroom good deals can be found – especially with it comes to affordable double bathroom vanities. If shopping for smart materials, package deals, and with an eye toward government incentives, it can be easy to find a bathroom vanity to fit any budget.
HomeThangs.com is not only a home improvement superstore, it also provides expert design tips and a comprehensive shopping guide, taking the ideas from professional interior designers, and offering tips to the consumers on how to pick the products to best suit their needs.