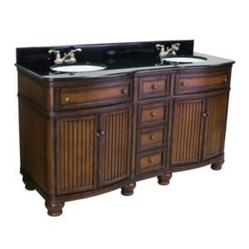 The very most important feature one should have in a master bath is a sink for each occupant, spaced far enough apart.
(PRWEB) September 18, 2012
HomeThangs.com – the Home Improvement Super Store has made their goal to deliver the right product to the consumer, with that in mind, shopping and home design tips, as well as special product selections are being introduced.
When it comes to designing a master bathroom, there's one thing to keep in mind above all else: elbow room. Some people extend the idea to his and hers bathing areas or even his and hers closet space. But the very most important feature one should have in a master bath is a sink for each occupant, spaced far enough apart.
HomeThangs.com introduced a tip sheet on double bathroom vanities, to help the consumers find a stylish way to incorporate multiple sinks into a master bathroom, and also afford all the storage needed for two.
1. The bathroom is one of those places that the battle of the sexes can rage the most fiercely. Especially if both people head in to work at around the same time each day, competing for sink space, counter space, and even mirror space can make things a little tense. That's when double vanity is a solution. If there's enough space in the bathroom, a really large vanity like the Compton Walnut vanity from Hardware Resources that's wide and open, with far-spaced sinks, will offer enough room to be well out of each other's way.
2. Double vanities are good for more than just making sure the toothpaste doesn't get spit on the significant other. While it's possible to install two separate, smaller vanities – sometimes even in different areas of the bathroom – to much the same effect, large double vanities are beautifully designed and make an excellent focal point in the bathroom. Something like the Ornate Antique Vanity by Legion Furniture, for example, is perfect for a period-style bathroom; while smaller versions of similar styles are available, having a single long unit gives a period bath weight and authenticity.
3. As well, double bathroom vanities afford a lot more storage without taking up as much space or requiring any extra storage cabinets. While very small single vanities have much smaller footprints, with a lot of toiletries, a bigger vanity does a much better job not only of storing it, but keeping it out of sight. The Dresser Style Vanity by Silkroad Exclusive, for example, offers more storage than one can shake a stick at, with 12 functioning drawers and two storage cabinets with built in shelves.
4. Double bathroom vanities will always have more storage per-capita than two single vanities simply because of the space in between that connects the two sink basins. This is most obvious in modular vanities like many of the Traditional Vanities by Silkroad Exclusive. Assembled out of three parts: two single vanities (mirrored for better symmetry) and a set of storage drawers. the pieces assemble seamlessly – just push the three together and assemble the plumbing through the open backs – and provide more storage in less space than the three pieces would if they were installed separately with an appropriate amount of empty space on either side.
5. Double vanities aren't just good for maximizing larger spaces. They can also work well in smaller bathrooms, too. Though the Compact Vanity by Silkroad Exclusive might admittedly leave one bumping elbows, if the main concern is having sinks for two, this double vanity will do the trick in much less space than two average single vanities. In fact, it's only four inches longer than a largish single vanity, but has adequate counter space for necessities like toothbrushes and soap, plus private storage for each user and four shared drawers – which is pretty darn good for a very small shared bath for two.
6. Some bathroom design practically screams for double vanities. Cottage style bathrooms, for example, rely on simple lines and subtle wainscoting to create a homey look and feel. The continuous, unbroken lines on the Cottage Style double vanity by Legion Furniture are visually appealing and help emphasize that feeling – the very heft of the vanity helps give a room that country feel, especially because it's more like a piece of furniture than multiple smaller fixtures.
7. Modern design, as well, makes excellent use of double vanities. While modular, wall-mounted vanities tend to be more common because they make it easy to create white space, if a little more storage is needed – a vanity like the Mailbu from the Wyndham Collection is an excellent way to incorporate that sleek, minimal design into the bathroom without straying too far from tradition. The lines are utterly simple, and the handle-less doors make the whole fixture seamless, while the slightly floating counter tops and vessel sinks are all modern style.
HomeThangs.com is not only a home improvement superstore, it also provides expert design tips and a comprehensive shopping guide, taking the ideas from professional interior designers, and offering tips to the consumers on how to pick the products to best suit their needs.