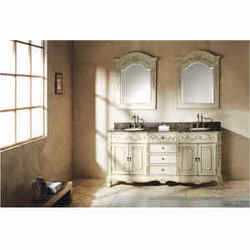 San Diego, CA (PRWEB) July 31, 2008
Premiere Vanities is thrilled to offer a new and beautiful white double sink bathroom vanity for the antique and traditional design lovers out there. This stylish vanity is a delightfully tasteful response to the increasing demand for antique or traditional designs that are very practical and yet aesthetically pleasing bathroom furniture.
This birch bathroom vanity has an eye-catching hand painted antique white finish that complements the antique brass faucets and 72" solid granite top beautifully. This vanity is accented with intricate detailing and scrolling in the wood base. This wooden vanity uses framed type construction, which enhances stability and provides durability for many years to come. The kiln-dried hardwood base is properly dried to prevent warping and cracking, as well as a sealed finish to prevent peeling and fading in elevated humidity levels. The matching antique white birch mirrors complete this double sink bathroom vanity's effortless charisma in any wash room.
This classic double sink bathroom vanity is just one example of the great discounted bathroom vanities available on the Premiere Vanities website: premierevanities.com. Premiere Vanities is proud to have this intricate and elegant conversation piece of bathroom furniture in their wide collection of single and double bathroom vanities. As the demand for classically styled yet functional bath vanities increases, Premiere Vanities supports the idea that vanity specialists should meet it with equally practical and beautiful bath vanities to match any home décor.
About Premiere Vanities:
Premiere Vanities is the leading online source and retail site for bathroom vanities, with a passion for making every bathroom a stylishly unique and beautiful room in every home. They offer a wide selection of single sink bathroom vanities, double sink bathroom vanities, vanity sets, bathroom cabinets, bathroom furniture and bedroom vanities. With vanities in antique, wood, traditional, and contemporary interior design styles, we are confident that our customers can find bathroom and bedroom vanities that will be chic and beautiful additions to their homes. Premiere Vanities offers quality bathroom and bedroom vanities and furniture at low prices, with free shipping in the continental U.S., and a great customer service experience.
###