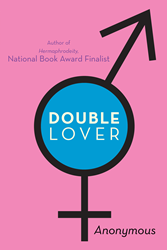 An utterly captivating story of identity whose reissue should be heartily welcomed. 'Double Lover' is an erotic hoot.
SAN DIEGO (PRWEB) July 30, 2014
The author is anonymous. Thankfully the novel speaks for itself.
A modern classic of sex and identity, "Double Lover" deals with an extraordinary erotic topic, the tale of Millie Nemos, a girl born with male as well as female sex organs, who fathers her own child in an epic comedy of love, lust, sexuality, reproduction and money.
A hugely entertaining story of sexual encounters and torrid love affairs, "Double Lover" details the hilarious adventures of a poetic girl who only wants her brother's love, a Harvard man who impregnates himself by accident, a controversial archaeologist who finds skeletons in scandalous embraces, and a double-sexed CEO who wants the whole country's love.
Provocative thoughts on childbirth and archaeology, love and money, run compellingly alongside comical adventures in exotic locations all over the sexual landscape.
"An utterly captivating story of identity whose reissue should be heartily welcomed. 'Double Lover' is an erotic hoot." – Kirkus Reviews
For more information, visit http://www.doublelover.com
"Double Lover"
Anonymous
ISBN: 978-1-4759-8526-9
Available on Amazon, Barnes & Noble and iUniverse
About the author
A National Book Award Finalist, the author is a Harvard College graduate and holds a doctorate from the University of California, Berkeley. Previous books include "Murdering Henry James," "The Cannibal Frames Herself," "Goodnight Sweetheart," and "Hermaphrodeity."