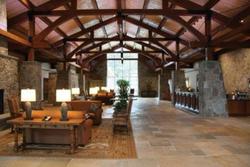 Guests are increasingly concerned about catching germs from the previous occupant
Tarrytown, NY (Vocus) September 2, 2010
With high regard for customer service and a focus on maintaining the most hygienic environment possible, the Doubletree Hotel Tarrytown recently introduced new room cleaning procedures that will ensure that guests enjoy their stay at the hotel without the worry of catching germs from the previous room occupant.
The new sanitation measure, called the Doubletree Final Touch, is a supplement to the standard room cleaning regime previously used at the Doubletree and still used at other hotels in the area. This method was chosen especially to treat those areas most handled by guests, including: television remote control, telephone, doorknobs, light switches, thermostat, faucet handles, and toilet handle.
During the Final Touch, room cleaners take extra care to go over these areas with anti-bacterial wipes. This is in addition to cleaning the room with Wow Green products and an Electrolyzer solution which uses salt and water to output two different solutions; the first is an alkaline water used as a cleaner and degreaser and the second is an acidic compound that has bactericidal/viricidal benefits. The latter two processes are environmentally friendly.
"Guests are increasingly concerned about catching germs from the previous occupant," said Rich Friedman, General Manager, The Doubletree Hotel Tarrytown. "With our Final Touch, they can rest assured that they will be in a clean and safe room during their stay with us."
The Doubletree Hotel offers 247 guest rooms, and the largest Grand Ballroom in Westchester, with 10,000 square feet of space. A total of 24,000 square feet of meeting and pre-function space also includes another ballroom and 17 meeting rooms. In addition, the hotel offers a complimentary Business Center, spa, indoor pool, sauna, fitness center and a separate Glatt Kosher kitchen for accommodating Kosher events.
Set on 11 acres of landscaped grounds in the heart of the Hudson Valley, the new Doubletree Hotel is conveniently located just off Exit 9 of I-87 in Tarrytown, NY. The hotel is just 15 minutes west of the Westchester Airport, and 25 minutes north of New York City and LaGuardia International Airport. Nestled in a corporate atmosphere near many Fortune 500 companies, the Doubletree offers a country atmosphere and friendly service for both business guests and vacationers. For more information, visit http://www.Tarrytown.Doubletree.com
###