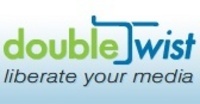 Today's consumers demand media portability and no longer tolerate being told how to enjoy their media. We've architected doubleTwist to be open to all devices and media formats and are continuously working with consumer electronics manufacturers to enable seamless syncing and social integration of media
SAN FRANCISCO & OSLO, Norway (PRWEB) June 15, 2008
In addition to helping consumers sync their music playlists to a wide range of devices, doubleTwist desktop now supports most popular video formats and transparently handles any format conversions needed to enable playback on several gaming, portable media players and mobile devices, including the iPod and iPhone.
"Given the diversity of formats and devices in the marketplace and the increasing popularity of user-generated video, there is an unmet need to make the process of syncing and sending video content more intuitive: you shouldn't have to be a geek to be able to move your media between your gadgets," said Jon Lech Johansen, founder and CTO of doubleTwist.
doubleTwist is also introducing a web-based "media inbox" that enables users to preview pictures, audio and video they receive from friends and family. The media inbox can be accessed through the doubleTwist website enabling users – and their friends – to enjoy their media instantly.
Also new to version 1.0 is support for several new devices, including the Motorola Q 9h, RAZR 2 V9, and MOTO Z9, the Blackberry 8130, 8310, 8320, and 8830 smartphones, Curve 8300 and Pearl 8100 and 8120, Microsoft's Zune, the LG Chocolate 8550, Verizon's Voyager, and Sandisk's Sansa players. Additionally, doubleTwist now supports video sync for Sony Ericsson, Sony PSP, LG Viewty, Nokia N series, and smartphones on the Windows Mobile platform including HTC, Palm and Samsung.
"Today's consumers demand media portability and no longer tolerate being told how to enjoy their media. We've architected doubleTwist to be open to all devices and media formats and are continuously working with consumer electronics manufacturers to enable seamless syncing and social integration of media," said Monique Farantzos, CEO of doubleTwist.
The desktop application, which currently works on Windows XP and Vista, is available as a free download at http://www.doubletwist.com. A MacOS X version is currently in development.
About doubleTwist Corporation
doubleTwist Corporation is founded on the principal that media should flow seamlessly between a wide range of consumer electronic devices and between family and friends. The company's flagship product, doubleTwist desktop, is a free application that empowers consumers to easily send and sync personal media regardless of device, file format or social network. Based in San Francisco and Oslo, doubleTwist was founded by Jon Lech Johansen (also known as DVD Jon) and Monique Farantzos and is backed by Index Ventures and Northzone Ventures. For more information about doubleTwist, please visit: http://www.doubletwist.com.