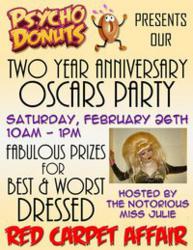 We invite customers to be a VIP at Psycho Donuts, to walk our red carpet, and to feel like a real Oscar nominee.
Campbell, CA (Vocus/PRWEB) February 25, 2011
This Saturday, February 26 marks the two-year anniversary since the launch of Psycho Donuts in Campbell. Since the company's launch in February 2009, Psycho Donuts has become a local community hangout and a destination for tourists. The company is celebrating their local and national celebrity status this weekend with an Anniversary and Pre-Oscars VIP Gala Event.
Psycho Donuts' two year anniversary also coincides with the Academy Awards ceremony (or Oscars) weekend. Surrounded by 'psycho paparazzi,' customers will get the star experience – exciting interview op-portunities, dizzying photo opportunities, and prizes for the best and worst dressed. Psycho Donuts encourages customers to keep their eyes peeled for a few true local VIPs at the anniversary event.
"We invite customers to be a VIP at Psycho Donuts, to walk our red carpet, and to feel like a real Oscar nominee," said Jordan Zweigoron, Psycho Donuts' founder.
Psycho Donuts is reinventing previously discontinued donuts in conjunction with the event. Donuts such as Manic Malt, a malted milk ball-topped raised donut, and other unusual products will be available for purchase at the event.
Join Psycho Donuts at 2006 South Winchester Boulevard in Campbell on Saturday, February 26 from 10am to 1pm for an unforgettable, anniversary and pre-Oscar celebration.
About Psycho Donuts:
Psycho Donuts is the world's first and only light-hearted asylum for wayward donuts with locations in Campbell and downtown San Jose. Hailing from the Bay Area, Psycho Donuts has earned global acclaim for creativity and fun. A crazy-fresh spin on the corner donut shop, Psycho Donuts uses costumes, padded walls and unusual toppings to deliver the Psycho Donuts experience.
Psycho Donuts has quickly become a Bay Area icon, and has been featured in Maxim Magazine, American Way Magazine, Bon Appétit Magazine, Fox Business News, USA Today, Entrepreneur Magazine, Food Network Magazine, and other publications. For more information about Psycho Donuts, visit them online at http://www.psycho-donuts.com.
# # #