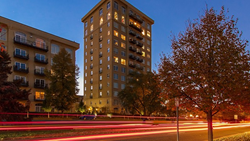 High-end Denver realtor Douglas Kerbs supports community programs
Denver, CO (PRWEB) July 21, 2016
Douglas Kerbs is not only one of the leading realtors of luxury properties in the greater Denver area, he also has this penchant for serving clients who are looking for true penthouses in South Platte River Valley, and more specifically in Denver Metropolitan Area. Kerbs has recently listed the 'true penthouses' that feature breathtaking skyline views, larger living spaces, expansive terraces, high-end interiors and direct elevator access. Buyers with a deeper pocket can now contact Douglas Kerbs individually or through his agency, LIV Southby's International Realty, to buy or enquire about properties in Arapahoe County, Jefferson County, Adams County, Douglas County, Elbert County and other areas within the metropolitan area.
Kerbs is also a concerned citizen who wants to give back to the community. A top producer with the LIV Sotheby's International Realty, Douglas Kerbs now also spearheads various non-profits that work from within the community he lives and works in.
Kerbs's strong background in marketing, finance and strategic brand strategies is what makes him a highly successful realtor. Kerbs assists in all phases of the purchase or sale, fostering a legion of satisfied customers who use his services again and again. Working with buyers and sellers from all over the world, he helps clients find their dream properties and facilitates sales that fetch the best prices on the market.
"The value of a penthouse is based on the exclusivity of the property. This is because penthouses make up only less than 1% of all real properties the world over. A penthouse does not have any adjoining unit, much like those single family homes. Besides, the top-floor properties are aloof residences. In a city like Denver, it was really hard to find true penthouses as many of these rooftop properties have already been sold. We conducted extensive research to find out these rarest of rare properties available for sale in Denver metropolitan area", said Kerbs.
Working for Sotheby's International Realty in Denver, Kerbs (http://douglaskerbs.com/) routinely markets high-end homes and penthouses in the $2-5 million range. Making money, however, is not the end-all, be-all, as he now an active participant in many community-focused programs and initiatives. Aside from working a professional real estate broker, Kerbs now actively engages in various community development programs.
"Being a native of this area, I have a special bond with the people," said Kerbs. "I've been very successful and I want to give something back to the community that has been so good to me."
He serves on the board of directors for several local organizations, including:

Denver Art Museum, an educational, nonprofit resource that sparks creative expression and educates the community about worldwide cultures
University of Denver High School, a private preparatory school
Colorado Neurological Institute, a nonprofit foundation that provides research, education and patient services
The Denver Future Forum, a nonprofit, professional organization focused on issues facing the Denver community
"These organizations are quite diverse in terms of the missions they aspire to and the people they serve," explained Kerbs, a University of Denver graduate. "By actively participating I really get to feel the pulse of the city and its surrounding areas. In this way, I can determine the best ways to help others."
For example, in 2013 he served as the committee chairman for the annual St. Jude "Under the August Moon" Gala, which raised more than $170,000 for the St. Jude Children's Research Hospital in nearby Greenwood Village. It was the most successful fundraising event in the history of the hospital.
For further information about Douglas Kerbs and Sotheby's International Realty, call 303-898-7818 or send an email to Douglas.Kerbs(at)sothebysrealty.com. Rare residential opportunities in Denver metropolitan area can be viewed at http://douglaskerbs.com/property-category/for-sale/?orderby=price&order=desc