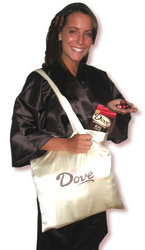 New York, NY (PRWEB) July 27, 2007
Today through August 5, "DOVE Women" will be wearing brown silk robes and will be frequenting popular street corners, as well as popular festivals and concerts across the United States. They'll be giving away DOVE Promises candy (http://www.dovechocolate.com), available both in dark chocolate and milk chocolate varieties.
Americans will find one of these many DOVE Women as they go about their business; whether shopping, getting ready to watch a favorite band, or simply out and about, they will have an opportunity to take advantage of the chocolate giveaway. The DOVE Women will also be handing out 'buy one get one free' coupons with their chocolate candy.
You can find DOVE Women in major cities across the United States over the following four-day weekends. These include July 26-July 29, and August 2-August 5.
The DOVE Women will be delivering chocolate candy on the streets of the following cities:
Baltimore/Washington DC
Boston MA
Chicago IL
Houston TX
Los Angeles CA
Miami FL
New York NY
Philadelphia PA
San Diego CA
San Francisco CA
About DOVE Chocolate
The DOVE Company also offers other chocolate treats, including DOVE Chocolate Bars and Miniatures, DOVE Cookies, DOVEBAR Ice Cream Bars, DOVE Chocolate Seasonal Products and DOVE Pint Ice Cream. Mars Snackfood US owns Dove Chocolate; Mars Snackfood US is a division of Mars US, a leading food manufacturer. You can find detailed product information at: http://www.dovechocolate.com.
About MARS US
Mars US is responsible for US-based food and snack operations, as well as pet care operations for Mars, Inc. Mars, Inc. is one of the leading food manufacturers in the world. It boasts more than $7 million in annual US sales. Mars US is headquartered in Hackettstown, New Jersey. It employs more than 9000 associates in the US, and has 52 facilities nationwide. Mars, Inc. is the owner of some of the most recognizable brands, including SNICKERS Brand, M&M'S Brand, DOVE Chocolate Brand, UNCLE BEN'S Brand, WHISKAS Brand Food for Cats, and PEDIGREE Brand Food for Dogs.
PRESS CONTACT: Kelly Lynch, Brand Building PR
212.343.8917, Klynch @ brandbuildingpr.com
###