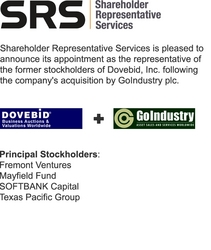 SRS helped provide a clear path to closing and allowed us avoid the complications that usually surround the shareholder rep issue.
Denver, CO (PRWEB) March 6, 2008
Shareholder Representative Services (SRS) today announced that it has been appointed as the representative of the former stockholders of Dovebid, Inc. following the company's recent acquisition by GoIndustry plc. Dovebid's selling stockholders include Fremont Ventures, Mayfield Fund, SOFTBANK Capital and Texas Pacific Group.
"When we first started negotiating the deal, the lawyers sent around an e-mail to all the investors asking who wanted to be the shareholder rep and there was deafening silence," said Bill Burnham, Managing General Partner, Inductive Capital and a member of Dovebid's Board of Directors. "SRS helped provide a clear path to closing and allowed us avoid the complications that usually surround the shareholder rep issue."
SRS serves as a professional representative of the stockholders following the closing of merger or acquisition transactions in connection with managing claims by buyers for damages related to breaches of representations or warranties, communicating with the escrow agent and other parties to the transaction, and any other matters that may arise following closing.
"International deals bring additional levels of complexity to M&A transactions that typically make the investors even less interested in serving as the shareholder rep", said Paul Koenig, Managing Director, SRS. "Whether it's the cross-border nature of the buyer and seller or handling issues related to international shareholders and employees, SRS has the expertise to make the whole process seamless."
For more information about Shareholder Representative Services, visit our website at http://www.shareholderrep.com.
About Shareholder Representative Services
Headquartered in Denver and with offices in Silicon Valley and San Francisco, SRS provides professional shareholder representation services following the closing of an M&A transaction. As shareholder representative, SRS manages the entire post-closing process including the management of escrows, earn-out negotiations, the handling of claims, disputes and litigation, communications with the acquirer, and, ultimately, distribution of escrow funds. By engaging SRS, investors are able to focus on their core competencies - identifying the next deal and managing the rest of their portfolio - rather than being distracted by the administrative burdens and legal and financial risks that may inure to the shareholder representative. The professionals at SRS have the expertise to simplify the post-closing process for the investors and to maximize return of sale proceeds to shareholders.
Contact:
Mark Vogel
Managing Director
Shareholder Representative Services LLC
Phone: 415.863.4291
###