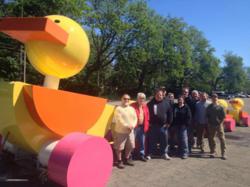 We hope the public at ARTPRIZE really connects with our art piece. -Gary Cacchione
Grand Rapids, MI (PRWEB) June 07, 2013
Giant Quacker is the brainchild of David Seitzinger and Gary Cacchione This project was a commissioned work for the 2012 governor's awards and is now a campus symbol at Mercyhurst University. Recently the family of art ducks was seen by an estimated 100,000 at the Perry 200 Commemorative Parade in Erie, PA. After the Perry 200 Parade, this duck family will be displayed at the prestigious ARTPRIZE competition in Grand Rapids, Michigan in September; competing to win the first prize purse of $200,000.
ArtPrize calls to artists from all over the world who are welcome to experiment, collaborate and play out new ideas.
Artists have the chance to win $560,000 in prizes, the largest total purse for any art prize, chosen both by public vote and professional jurors. ArtPrize draws more than 400,000 people, from novices to the art world elite. There is an opportunity to install a project in diverse urban venues, from an art museum to a Laundromat.
The POPArt duck family will be on display at the Grand Rapids Public Art Museum venue.
Dovetail Gallery Inc
352 East 18th Street
Erie, Pa. 16503
814.459.8071