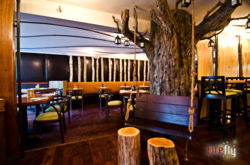 Firefly was a beautiful project for Potomac Construction and Dovetail. We completed this project in 3 weeks. - James Lafley
Washington, D.C. (PRWEB) November 29, 2012
President Gary Cacchione, announced today that his company Dovetail Gallery, was awarded several custom millwork projects moving into 2013. One of these projects Mr. Cacchione highlights is Bar Method awarded from Winmar Construction. Winmar is a new client to Dovetail that specialize in commercial interiors & hospitality builds, including restaurants, retail, and institutional construction. Winmar came to Dovetail through its online portfolio and social media marketing initiatives that the company has recently implemented. Dovetail's long history of millwork excellence and success working with D.C. Construction Firms is another factor which brought two companies together. Some of the current and/or past clients Dovetail Gallery has worked for are:
Paul Bakery - Potomac Construction
Firefly Restaurant -Potomac Construction
Golden Nugget Casino's - Atlantic City & Las Vegas with Herman Stewart.
Dovetail's custom millwork portfolio can be found here.
Dovetail Gallery, Inc. traces its existence to President Gary Cacchione's love of woodworking. The company is a provider of high quality architectural millwork, producing interior wood furniture and fixtures for a wide variety of commercial clients. Over the years, Dovetail Gallery, Inc. has expanded its customer base outside of the Erie area and is recognized on a national level, with a heavy emphasis on the Washington, DC and NYC metropolitan areas. Current clientele include restaurants, hotels, offices, hospitals, and various other types of commercial buildings. Dovetail has developed a national reputation for performing its millwork in an exceptional manner, at cost, and on time. With this reputation, Dovetail will continue as a profitable ongoing custom millwork company. As prospects for new enterprises and expansion of existing facilities continue to be high, the company's business continues to increase.
We are always looking for projects to bid and ventures with other contractors.
Fax us your invite to bid to.
FAX: 814.453.3342 ( ATTN: DVTL)
Brad Ford
Dovetail Gallery Inc.
352 East 18th Street
Erie, Pa 16503
Email: bradf(at)dovetailgalleryinc.com
Tags: architectural millwork, custom millwork