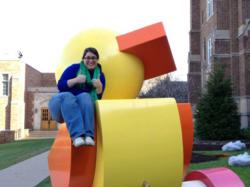 Erie, PA (PRWEB) November 08, 2012
There has been a giant diversion from finals studying for some students on our campus. This diversion comes in the form of a rather large, colorful toy duck. The artistic statement is one that certainly has not been seen on Mercyhurst's campus before this time.
There have been many creative reactions to the duck including professor of Political Science Dr. Brian Ripley.
"The duck is a playful work of post-modern art that also reminds students how big their 'bill' will be," said Ripley. Then there are student opinions such as senior Devon Meddock who played up Mercyhurst's known image for looking quite a bit like J.K. Rowling's Hogwarts in the Harry Potter series. "It's professor McGonagall," Meddock said.
The duck is an eye-popping piece of art out of many in collaboration with the Friends of Mercyhurst art installation. The giant duck could first be seen at the awards pre-party at Erie Insurance for the Pennsylvania Governor's Arts Awards held recently in Erie. Since that time, the bright yellow, pink and orange piece of art can be viewed freely on the front lawn of our campus.
The artists of the duck are David Seitzinger and Gary Cacchione who are both also showcasing works inside of Old Main as well.
Seitzinger made the mobile overhead piece hanging just out of reach from most students; Cacchione can be recognized for his shelf-looking piece just outside of the president's office. "They [the artists] love the fact that the students are talking about, taking pictures of, and climbing on the piece," said Carolin Lynn, adjunct instructor at Mercyhurst.
If anything is definite, it would be that this piece of art should certainly feel at home with all the rain we have been getting.
Little things can make a big difference; bigger little things have lasting impact.
Artists: David Seitzinger & Gary Cacchione
New world ideas meet old world craftsmen-ship in the creation of a ten foot tall toy duck installation.
David Seitzinger a graduate in industrial design from the Columbus College of Art and Design, Seitzinger was a toy designer for Marx Toy Company. Seitzinger received first place in the Boston Mills show for a collaborative "flying machine" he created with John Vahanian that was also featured in the Paris Air Show. He has exhibited widely, and has been commissioned to build several public art installation.
Gary Cacchione owner and furniture designer of Dovetail Gallery, inc. The leading mill-work and architectural design company in Erie, Pa. Dovetail Gallery has had a history of being the go-to craftsmen for large scale commercial design projects.
Their newest project was a commissioned work for the 2012 governor's awards. The governor's awards for the arts represent a Pennsylvania tradition begun in 1980 by governor Dick Thornburgh. Presented annually in Harrisburg at the state capitol, this year's awards honored artists in Erie, Pa.
They were asked to create a large sculpture for the VIP gala hosted at Erie Insurance Group. David was recently working on the idea of up scaling children toys from past eras; this now gave them the opportunity to put this idea to a real application. After prototyping several ideas Giant-Quacker began to take shape. This simple toy a symbol of innocence and childhood when up scaled became a truly POP ART icon.
Sometimes we forget the simple moments in our lives, that shaped who we are. For yourself it maybe your first toy or the first time you watch your child open their toy. Art has a powerful way of reminding us how precious our lives are. David & Gary both hope this toy icon is the trigger for us to remember that kind of life changing moment. Art can connects the generations.
The duck is currently on display at Mercyhurst College and the next version David and Gary plan on making it mechanized. We are open to collectors to buy or institutions to display this toy icon.
Websites:
http://www.dovetailgalleryinc.com
http://www.facebook.com/GiantQuackEr
Designer:David Seiztinger & Gary Cacchione
Client: City of Erie
Size: 10'
Engineer: Gary Cacchione
Project manager:Joe Matta
Project team: Dovetail Gallery inc.
Material: plywood, base coat clear coat automotive paint, Styrofoam head coated in West Systems epoxy
Media contact: Brad Ford
814.450.9005
bradf(at)dovetailgalleryinc(dot)com