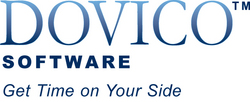 It has also allowed us to identify areas where we can improve our processes and by doing so, our efficiency and effectiveness
Moncton, New Brunswick (PRWEB) March 27, 2009
DOVICO Software is releasing a whitepaper proving the benefits and financial savings gained from purchasing or subscribing to an out-of-the-box and dedicated employee timesheet application as opposed to using a spreadsheet program such as Microsoft Excel for timesheets.
When it comes to gathering, measuring and quantifying employee time for productivity gain, this white paper (http://www.dovico.com/excel_timesheets_vs_dovico_timesheets.html)] identifies the often un-recognized costs of manually developing and updating a spreadsheet program as well as stressing the importance of additional features available from a purposely built tool.
A recent convert to DOVICO Timesheet Software , Bill Battie, a Project Manager with McAfee, Inc., highlights the supplemental ROI not available through the limited reporting capabilities of a spreadsheet program. "It has also allowed us to identify areas where we can improve our processes and by doing so, our efficiency and effectiveness"
About DOVICO Timesheet Software
DOVICO Timesheet is an award-winning time management and project tracking software that monitors project costs, Employee Time Sheets and expense sheets. This installed or hosted online timesheet software (SaaS) simplifies time tracking for billing, payroll or project management. Software integration to Intuit QuickBooks, Microsoft Project and Microsoft Project Server is included.
About DOVICO Software
As the leading developer of time management software , DOVICO provides proven time tracking software and project cost saving solutions that have been embraced by thousands of the world's best-known companies such as Wawanesa Insurance, National Geographic, Vodafone and DHL. Established in response to the emerging global demand for enhanced operating efficiency, our easy-to-use web based time management software will improve your productivity, project control and profitability in 60 days... Guaranteed!
For more information on DOVICO or DOVICO Timesheet software please call 1-800-618-8463 (North America), 00 800 4618 8463 (International) or visit DOVICO.com.
(C) 2009 DOVICO Enterprises Inc.
Contact Name:
DOVICO Software
Martin Johnson, VP Marketing
506-855-4477 ext 230
# # #