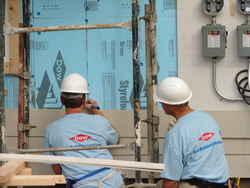 Building a Greater Los Angeles
Midland, Mich. (PRWEB) October 31, 2007
The Dow Chemical Company (Dow) is lending support to Habitat for Humanity's 24th annual Jimmy Carter Work Project (JCWP), Oct. 28 – Nov. 2, 2007, in Los Angeles. During the weeklong project, thousands of volunteers from around the world will join former U.S. President Jimmy Carter and his wife, Rosalynn, in building 30 new homes and rehabilitating 70 homes this week and through the end of the year.
As a result of Dow's unique donation, which includes financial and employee volunteer support as well as product contributions like STYROFOAM™ and WEATHERMATE™ housewraps, new homeowners will benefit from significantly reduced energy consumption and increased savings. Using Dow product contributions, a new multi-family unit will reduce natural gas consumption for heating by 23 percent, and provide 30 percent overall reductions in electricity consumption.
Through Dow's long-standing 27-year relationship with Habitat for Humanity, the Company's leadership in science and technology will be leveraged at the 2007 JCWP to solve some of the world's more pressing challenges, including decent housing, sustainable development and energy efficiency.
"Dow is helping to make a difference in the lives of families in need by supporting Habitat for Humanity and the Jimmy Carter Work Project," said Scott Young, global portfolio director of energy efficiency for Dow. "Together, we are building strong communities where people have a sustainable and affordable place to call home. With the substantial savings from reduced energy use, these new L.A. homeowners will enjoy a more comfortable living space and enjoy lower utility bills - month after month, year after year - long after the last nail is hammered."
The Habitat for Humanity homes will be built in partnership with 30 low-income families in South Los Angeles and in the San Pedro area near the port. Families partnering with Habitat for Humanity complete 500 hours of 'sweat equity' in building both their home and the homes of the other partner families. Families also pay a no-profit mortgage for their homes, which is then used to build even more simple, decent and affordable housing in the Los Angeles area. In addition, 70 homes in these two neighborhoods, already owned by low-income families, will be repaired through Habitat for Humanity's "A Brush With Kindness" program.
To help additional low-income families in one of the most expensive and overcrowded metropolitan areas in the U.S., Habitat for Humanity of Greater Los Angeles made a three-year commitment to build and rehabilitate 150 additional homes throughout the area. The campaign, "Build a Greater Los Angeles," is co-chaired by California Governor Arnold Schwarzenegger and Los Angeles Mayor Antonio Villaraigosa.
In addition to supporting the JCWP, Dow has also pledged its commitment to several other programs, including Habitat for Humanity's Global Village & Discovery Center and Congress Building America initiative.
The Carters are Habitat's most famous volunteers. Each year since 1984, the Carters have given one week of their time to build homes and raise awareness about the need for simple, decent and affordable housing. Previous JCWP events have been held in New York City, Georgia, Michigan, the Philippines, India, Hungary, South Korea and South Africa. Habitat's project with the Carters in 2008 will be held along the U.S. Gulf Coast.
About Dow
Dow is a diversified chemical company that harnesses the power of innovation, science and technology to constantly improve what is essential to human progress. The Company offers a broad range of products and services to customers in more than 175 countries, helping them to provide everything from fresh water, food and pharmaceuticals to paints, packaging and personal care products. Built on a commitment to its principles of sustainability, Dow has annual sales of $49 billion and employs 43,000 people worldwide. References to "Dow" or the "Company" mean The Dow Chemical Company and its consolidated subsidiaries unless otherwise expressly noted. More information about Dow can be found at http://www.dow.com.
About Habitat for Humanity of Greater Los Angeles
Habitat for Humanity of Greater Los Angeles strives to eliminate poverty housing through advocacy, education and partnership with families in need to build simple, decent affordable housing. Since 1990, Habitat for Humanity of Greater Los Angeles has built more than 200 homes, transforming the lives of hundreds of individuals. In the spring of 2007, Habitat for Humanity of Greater Los Angeles kicked off its three-year "Building a Greater Los Angeles" campaign to build or rehabilitate 250 homes in Los Angeles County. For more information, visit http://www.habitatla.org and http://www.jcwpla.org.
About Habitat for Humanity International
Habitat for Humanity International is an ecumenical Christian ministry that welcomes to its work all people dedicated to the cause of eliminating poverty housing. Since its founding in 1976, Habitat has built more than 225,000 houses worldwide, providing simple, decent and affordable shelter for more than 1 million people. For more information, visit http://www.habitat.org.
For editorial information:
Nancy Fullerton
The Dow Chemical Company
+1.989.636.8190
nfullerton @ dow.com
Duane Bates
Habitat for Humanity
+1 229.924.6935, Ext. 3079
dbates @ habitat.org
Tina Janczura
GolinHarris
+1 312.729.4349
tjanczura @ golinharris.com
###