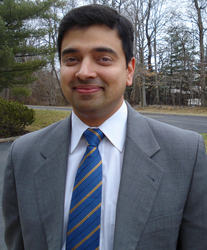 The next 20 years of healthcare promise more change than perhaps the previous two centuries.
Montvale, NJ (PRWEB) May 21, 2010
Dowden Custom Media, a leading healthcare marketing and communications firm specializing in custom print and online solutions, has announced the appointment of Sid Gokhale to the position of president.
In this new role, Sid will be responsible for Dowden Custom Media's flourishing custom marketing communications business, with continued emphasis on the integration of multimedia offerings. "The modern healthcare market is as exciting as anyone could ask for," Sid says. "New advances in both care delivery and communications are converging to change the entire paradigm. The next 20 years of healthcare promise more change than perhaps the previous two centuries."
Sid has spent many years developing Dowden's e-media division into a successful Web site development and e-marketing solutions business. The e-media division designs, builds, hosts and supports more than 100 Web sites. Clients include Lenox Hill Hospital, Valley Health System and Novartis Vaccines and Diagnostic. Roger Friedman, CEO, states, "Sid has consistently delivered outstanding results. As we continue to develop our strategy for rapid growth, Sid's leadership and demonstrated capacity for results will be a key element in our success."
Sid has had numerous years of experience in healthcare marketing, especially when it comes to offering solutions, expertise and technology necessary to help healthcare organizations promote their programs and services. "The plan is to position Dowden Custom Media as a key resource for healthcare organizations as they embrace the essential new role communication plays in care delivery," Sid says. "In addition to connecting healthcare communities, today's multi-channel communication platforms empower physicians and improve patient care."
About Dowden Custom Media
Montvale, New Jersey-based Dowden Custom Media, a leading provider of marketing and communication services in the healthcare industry, is a division of Dowden Health Media, Inc., a subsidiary of Lebhar-Friedman, Inc. Dowden's services include custom publications, physician education programs, content development and online solutions such as Web sites, e-newsletters and new media tools. Together with its in-house interactive team, eCrossings Media, Dowden helps marketers engage consumers by strengthening their brands, broadening community outreach and driving clinical encounters.
About eCrossings Media
eCrossings Media is an interactive agency using high-end design, new media, leading technologies and a rigorous focus on building relationships to help its clients develop strong brands and drive synergies among customers, employees and partners. eCrossings Media was founded as a division of Dowden Health Media specializing in online initiatives for the healthcare and pharmaceutical industries.
For additional information, contact Alison Cornely at 201-740-6254.
###