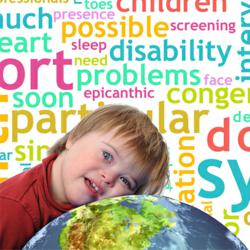 We want to get our magazine into every doctors office and into every home where a person with Down syndrome lives.
St. George, Utah (PRWEB) October 24, 2012
October is National Down Syndrome Awareness Month and James McFadden, one of the founding parents of the Southern Utah Down Syndrome Association is on a mission to further advocate for persons born with Down syndrome in an unlikely fashion.
On October 21st, 2012 at 2100hrs MST, Mr. McFadden started sending "Tweets" through the social media site Twitter.com. As of this writing he had only sent a little more than 200 but he has no intention of stopping there. He's clearing his calendar and stopping all other efforts because just in case you missed it; his goal is to tweet 21,000 tweets in 21 days to advocate for awareness.
Through this process he hopes to raise awareness and the necessary start-up capital needed to launch the first National Publication of its kind. Here are a few simple ways he believes this goal can be achieved.
1. Social Media Heads -- Follow them on Twitter. How many tweets tweeted can be re-tweeted? Social media alone could ensure they experience "their first tipping point". Tweet on twitter, like on facebook, and share their campaign with friends!
2. Bloggers Unite! -- Blog, Blog, Blog, Blog, Blog, Blog, Blog!
3. Regular Everyday Folks -- Consider contributing just 2 bucks! If 2000 people do this they would experience what Mr. McFadden calls "tipping point #1"
4. Parents & Families -- Subscribe to the magazine for just $21 annually (regularly $28/year)
With as little as 1000 subscribers they could print the first two issues and 14,000 additional copies can be sent to doctors offices throughout the country. This would be "tipping point #2"
5. Friends can give the gift of knowledge -- Sponsor a subscription for a friend, relative, or a favorite doctor! This publication would be the perfect gift for a loved one.
6. Business Owners -- Can sponsor multiple issues within their communities and will have a seat in history! See their funding page for more info. indiegogo.com/21000
7. Affiliates -- Sponsor subscriptions in bulk and secure a spot on their website for life.
See our website and funding page for more info. indiegogo.com/21000
8. Foundations, Partners & Sponsors -- Sponsor issues en-masse and ensure they reach as many doctors offices and organizations as possible!
When we asked Mr. McFadden what motivated him to attempt something as crazy as this, meaning the twitter campaign, he said, "I love my son Jonny very much and I couldn't think of a better way to let the world know". Jonathan, or 'Jonny', as he prefers to be called, was born with Down syndrome almost 12 years ago and has had a profound impact on his father.
"Jonny has taught me a very powerful and simple lesson. What we consider perfect is really nothing more than standard, normal, and often just what is expected. He has taught me that perfection can better be realized, experienced, and found when you look at the world through the eyes of someone who is truly innocent from it. If you really want to understand joy, beauty, love, and 'perfection', you really should get to know someone like my son. Your world will never be the same once you do".
Mr. McFadden truly believes one person can make a difference and he further stated, "I'm compelled, every day I wake up to try and try to make a difference and more than anything, I hope to be an example and motivate others to think the same way or find the strength to continue their battle. If I can inspire a small handful of people to step out of their comfort zones and make small contributions to their communities, this crazy idea won't seem so crazy after all and it will be worth every single minute".
Mr. McFadden also hopes to raise national and community awareness and in his words, "provide some well deserved attention to the hundreds of thousands of volunteers, employee's, bloggers, sponsors, doctors, researchers, donors, and families, who quietly and tirelessly work every day to make a difference and accomplish common goals". Mr. McFadden wants them to know just how appreciated and important they are and he wants to continue to do his part to help them keep their vital organizations and programs both large and small, here and abroad, running every day.
Through this endeavor, Mr. McFadden has partnered up with Down Syndrome Affiliates in Action, and D.A.D.S National who will be helping him get the word out and who will each be making contributions to the content in the magazine and receive a small grant to help them with their programs through the proceeds raised in their initial funding campaign on indiegogo.
Through Down Syndrome Today, Mr. McFadden intends to open its pages to any organization that has a desire to add their voice to theirs. "Getting the word out and empowering individuals on a national level will ultimately ensure our life long success and the ability for our collective organizations to be heard".
When asked if he only had one chance to speak to a national audience on TV and if two celebrities were to call and want to help, who would he like to hear from and in what order would he like the phones to ring, he snapped, "Katie Couric, Sarah Palin, and Tiger Woods" When asked why, he said, "Because Katie is genuine, I would love to meet Trig, and we are hosting the only PGA ProAm Open in Southern Utah next April. Tigers schedule for that weekend is clear and he has always been an inspiration to me".
In closing he shared these sentiments with us. "At this point I don't know if this is more inspiration or desperation. The bottom line is that I have always believed in the philosophy that one person can make a difference. If I can help prove this one simple point, then thousands more might be empowered to make similar contributions to their communities and collectively we can continue to change our world for the better"
About Down Syndrome Today
Down Syndrome Today was established to provide a collective resource of relevant news and information and get it into the hands of the families, medical providers, services providers, and political leaders who would benefit the most from its pages.
Through an unbiased collaborative of associations, foundations, researchers, and family supporters we hope to help further unify the collective voices of each great organization serving within Down syndrome community. As we do so together, we can continue to break down barriers, eliminate misinformation, and help each organization realize their full potential and accomplish their individual hopes, dreams, and mandates.
About Down Syndrome Affiliates in Action
Down Syndrome Affiliates in Action started as a conference bringing together outstanding leadership from Down syndrome organizations around the country. In 2010, DSAIA became a 501c3 nonprofit trade association continuing its mission:
To support and advance the growth and service capabilities of the local and regional Down syndrome organizations we serve, to be the conduit of value-driven training, programs, best practices and support for our members.
DSAIA's purpose continues to be to serve our affiliates through collaboration, resource sharing, and networking. "We connect Down syndrome organizations to each other."
About D.A.D.S. National
Dads Appreciating Down Syndrome, or D.A.D.S., is a committee or community group (within a local Down syndrome support organization) of fathers of children who happen to have Down syndrome. We hesitate to call our self a "support group", even though we do, in many ways, support each other.
The 3 foundational pillars of D.A.D.S. are Support, Action and Fellowship. You won't find us in a church basement drinking warm coffee and whining about having children with Down syndrome. Instead, you'll find us out in the community coaching our kids' sports teams, participating in our children's IEPs, volunteering at local Down syndrome fund-raising events, and even sponsoring fund-raising events of our own.
The cornerstone of D.A.D.S. groups is the monthly meeting where members come together to share insights and experiences. Face it: there are certain responsibilities that generally fall on the shoulders of the father. Having a child with special needs often affects how we approach those responsibilities.
We invite expert speakers to discuss medical, educational, financial, social, and any other issues that affect our children's lives. And of course, we share stories and experiences that are unique to fathers of children with Down syndrome.