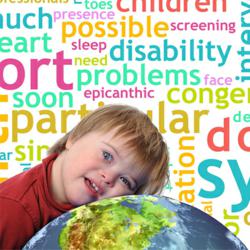 I believe thousands of lives could be changed and saved if doctors had consistent, current, accurate information at their disposal
St. George, Utah (PRWEB) November 05, 2012
James McFadden, who also founded the Southern Utah Down Syndrome Association three years ago, is concerned that this alarming statistic is mainly due to misinformation, fear of the unknown and lingering biases from the past. As a result he stated, "we need something tangible, professionally designed, and consistent to ensure relevant and vital information gets into the hands of more people. Today more than ever, a national level magazine just makes perfect sense." He then indicated that his ultimate goal is to eventually see a copy of "Down Syndrome Today" in every doctor's office in America and abroad with their first issue is planned for January, 2013.
To help accomplish this lofty goal and get things started, Mr. McFadden recently launched a funding campaign on indiegogo.com using social media and twitter. His goal was to tweet 21000 tweets in 21 days to promote awareness and secure subscribers to the magazine. However, once he got started, Mr. McFadden quickly learned Twitter curbs the amount of tweets any one person can do in a day and that they break this restriction into hourly increments making his effort impossible. Now Mr. McFadden is changing things up a little and with just one week left in his initial campaign he still hopes to achieve the mission he set out to accomplish.
"I believe thousands of lives could be changed and saved if doctors had consistent, current, accurate information at their disposal, if expecting parents were more aware of the incredible systems of support available to them, and if both doctors and expecting parents understood just how many incredible lessons on life they will learn from their amazing children."
Mr. McFadden had hoped to secure the first 1000 subscribers by the end of their first 21 day campaign but so far, despite all of his efforts and plea's, he has not seen the response he initially anticipated; not even from his closest friends and associates. When we asked him why he thought he was having such a hard time getting people excited about this project he said, "I just don't think they realize how many important things a magazine like this could help accomplish, it doesn't make sense to them. The way we see it, if we had a magazine in every doctor's office, we would have a voice in every doctor's office and that voice could have a huge impact on the information being discussed and the decisions being made."
Mr McFadden also believes that if they can get at least 1000 people to contribution just $2, it would tip the scales on indiegogo and they would start to get the national attention they are striving for. "Without a significant number of contributors and some serious help from others, we won't get the attention or have the impact we are striving for. This will truly require the effort and help of thousands of people who feel the same way as we do."
For information on the funding campaign and to contribute go to indiegogo.com
Join them on Facebook at facebook.com/DownSyndromeToday.org
About DownSyndromeToday
Down Syndrome Today was established to provide a collective resource of relevant news and information and get it into the hands of the families, medical providers, services providers, and political leaders who would benefit the most from its pages.
Through an unbiased collaborative of associations, foundations, researchers, and family supporters we hope to help further unify the collective voices of each great organization serving within Down syndrome community. As we do so together, we can continue to break down barriers, eliminate misinformation, and help each organization realize their full potential and accomplish their individual hopes, dreams, and mandates.
About James McFadden
James McFadden was born and raised in Poway, California, (San Diego County). He has 10 years of experience working as a publisher and has over 20 years of experience in graphic design, marketing, branding, and event promotion, To date he has helped to promote and brand over 500 companies since 1991. His professional passion is event promotion and corporate branding. Most notably know for his significant role in the popularization of the epoxy garage floor coating systems that swept the building industry from 2000 to 2005.