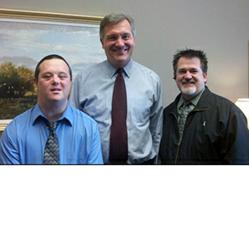 No other act of legislation before Congress has as much bipartisan support or more co-sponsors than the ABLE Act does at this time.
St. George, Utah (PRWEB) November 30, 2012
If you didn't already know this, when a person is born with or diagnosed with a permanent disability in America, like Down syndrome, one of the first things financial advisers counsel parents not to do is open a bank account in the name of their child and then to make sure they are excluded from his or her grandparents wills and estates McFadden explained. Sounds crazy right? – Apparently not so because this is exactly what parents and individuals classified as disabled are told every single day right here in the good ol' US of A; due in part by the possibility financial aid may be needed in the future and the eligibility requirements outlined by Medicaid.
"How do you think you would feel as a parent if shortly after your child was born this counsel was considered one of the more important things you needed to know?" Asked Mr. McFadden.
The 'Able Act' is known as H.R.3423 in the House with 236 co-sponsors and S.1872 in the Senate with 41 co-sponsors. To put this into perspective, that is over 50% of Congress. Mr. McFadden further stated, "I think we would all agree that Washington has very few things to be collectively proud of right now. Passing the ABLE Act would go a long way to restore dignity in Washington and the dignity of millions of Americans."
ABLE is an acronym for "Achieving a Better Life Experience"
In an Op/Ed article to the BethesdaPatch, Jawanda B. Mast, the mother of Rachel Mast had this to say. "My daughter Rachel is 13 and has Down syndrome. We live in Olathe, Kansas. Rachel and I have advocated at all levels of government. The symbol of Rachel's march to independence is that she wants to live in a pink house. It has become a fun topic but it is a serious one for our family. Under current laws, Rachel is only allowed to have $2,000 in assets. Families of children with disabilities are warned almost from the moment our children are born of the woes of this law. We are told to set up special needs trusts (which is still a viable option even when ABLE is passed) and don't save in traditional ways for your child with special needs because you will jeopardize any government supports. While most of us don't want to depend on government supports, the reality (is that) individuals with disabilities will probably need some help along the way."
And according to Mr. McFadden, "Instead of encouraging independence and self-reliance our current system perpetuates an environment of dependence and creates obstacles to individual dignity. This is the Fiscal Cliff our families have lived with for years".
If passed, the ABLE Act would make it possible to establish a savings account under the same tax laws governing a 529 College Fund savings account without disqualifying the account holder from accessing government assistance should they ever be necessary.
Mr. McFadden believes, "This one act of legislation could potentially promote more independence from outside assistance than any other proposed law in the last 100 years."
So on November 15th, 2012 backed by overwhelming support and a desire to see things change, Mr. McFadden and Adam Christensen, a self-advocate from St. George, Utah who was born with Down syndrome joined 23 other "Ambassadors" representing 13 States along with several other organizations including Autism Speaks and The Arc on the one year anniversary of the ABLE Acts reintroduction to Congress and participated in a "Washington D.C. fly-in" sponsored by the National Down Syndrome Society an organization devoted to improving the quality of life for persons born with Down syndrome, passing the ABLE Act and many other important issues and legislation affecting persons with disabilities. The purpose of this collective fly-in was to encourage their respective Senators and Congressmen to join the growing army of legislators currently co-sponsoring the ABLE Act and more importantly, commit them to making sure the bill is a part of any fiscal legislation expected to pass by the end of this year.
While in Washington D.C., Mr. McFadden and Adam met with Congressman Jim Matheson and Senator Orrin Hatches office to express gratitude for their support. Senator Matheson is currently the only co-sponsor in the State of Utah and Senator Hatch helped author the original version of the ABLE Act.
Mr. McFadden and Adam also called on Congressman Rob Bishop and Jason Chaffetz to join the almost 300 co-sponsors in the 112th Congress currently supporting the ABLE Act or what Adam refers to as "The Dignity Act". Adam, now 38, has lived independently for over 15 years, works three jobs, two of which he volunteers, but is unable to own his own home or maintain any other assets for fear of losing what little aid he currently receives. With an ABLE account he could earn more, save more, and take more responsibility for his own needs and care.
Mr. McFadden was also encouraged by the commitment they received from Senator Mike Lee's office to take another look at this important piece of legislation stating, "We sincerely believe that upon further investigation Senator Lee will find that helping pass the ABLE Act will also be an important step in accomplishing the promises he made to his constituents when he was first elected to office by reducing dependence on government and promoting self reliance". While visiting Senator Lee's office Adam enjoyed a warm photo/opt and is one of a select few invited to sit in Senator Lee's chair for a picture.
Mr. McFadden closed by stating, "You will be hard pressed to find another bill that has made it before Congress which is more deserving of passage and has or has had stronger bipartisan support than the ABLE Act. If Congress fails to ensure its passing before year's end it will be a sad day in Washington and a sad day for millions of Patriotic Americans. We call upon Congress and the President to do everything necessary to pass this bill this year, not next."
About the ABLE Act
The Achieving a Better Life Experience Act (ABLE) of 2011 (S. 1872/H.R. 3423) was introduced on November 15 in the 112th Congress (2011-2012 Congressional cycle). The bill is being led by a bipartisan, bicameral set of Congressional champions, including Senator Robert Casey, Jr., (D-PA), Senator Richard Burr (R-NC), Congressman Ander Crenshaw (R-FL), Congressman Chris Van Hollen (D-MD), and Congresswoman Cathy McMorris Rodgers (R-WA).
The ABLE Act will give individuals with disabilities and their families the ability to save for their child's future just like every other American family, and help people with disabilities live full, productive lives in their communities without losing benefits provided through private insurances, the Medicaid program, the supplemental security income program, the beneficiary's employment, and other sources. The account could fund a variety of essential expenses for individuals, including medical and dental care, education, community based supports, employment training, assistive technology, housing, and transportation.
About the National Down Syndrome Society
The National Down Syndrome Society (NDSS) is a nonprofit organization committed to being the national advocate for the value, acceptance, and inclusion of people with Down syndrome. NDSS envisions a world in which all people with Down syndrome have the opportunity to enhance their quality of life, realize their life aspirations, and become valued members of welcoming communities. NDSS has over 350 affiliates nationwide.
About Autism Speaks
Autism Speaks was founded in February 2005 by Bob and Suzanne Wright, grandparents of a child with autism. Their longtime friend Bernie Marcus donated $25 million to help financially launch the organization. Since then, Autism Speaks has grown into the world's leading autism science and advocacy organization, dedicated to funding research into the causes, prevention, treatments and a cure for autism; increasing awareness of autism spectrum disorders; and advocating for the needs of individuals with autism and their families. We are proud of what we've been able to accomplish and look forward to continued successes in the years ahead.
About Arc
The Arc is the world's largest community based organization of and for people with intellectual and developmental disabilities. It provides an array of services and support for families and individuals and includes over 140,000 members affiliated through more than 700 state and local chapters across the nation. The Arc is devoted to promoting and improving supports and services for all people with intellectual and developmental disabilities.
About Adam Christensen
Adam Christensen, 38 of St. George, Utah and has been living independently for over 15 years. He is a Special Olympic Gold Medalist in Basketball and also enjoys Bowling and Track and Field. He currently has three jobs, two of which he basically volunteers at due to restrictions on how much income he can earn and maintain what little assistance he currently receives. His father Mike Christensen lives nearby in St. George and his mother is a Lt. Colonel in the Army currently stationed at Fort Knox, Kentucky.
About James McFadden
James McFadden and his wife Shiela are the proud parents of 4 children. Their second child Jonathan, (Jonny), now 11 years old was born with Down syndrome. In 2007 they moved from San Diego, California where both Shiela and James were born and raised to Southern Utah to raise their children and in 2009 James organized the Southern Utah Down Syndrome Association. James recently stepped down as its founding President to launch Down Syndrome Today, the first National Magazine advocating issues related to Down syndrome. In 2011 he was recognized as the Parent of the Year by the UDDC and in 2012 he was appointed by the Governor of Utah to sit on the Board of the UDDC as a citizen Board Member.
About Down Syndrome Today
Down Syndrome Today was established to provide a collective resource of relevant news and information and get it into the hands of the families, medical providers, services providers, and political leaders who would benefit the most from its pages.
Through an unbiased collaborative of associations, foundations, researchers, and family supporters we hope to help further unify the collective voices of each great organization serving within Down syndrome community. As we do so together, we can continue to break down barriers, eliminate misinformation, and help each organization realize their full potential and accomplish their individual hopes, dreams, and mandates.