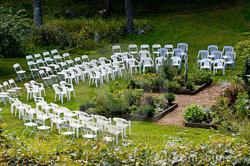 Long-distance walks to the ceremony site, or walking on a beach may not be feasible for elderly, young children, or those with disabilities so you may wish to consider shuttle transportation if it is quite a distance
Litchfield County, CT (PRWEB) February 28, 2013
Down The Aisle LLC, CT wedding planner experts in wedding design and DIY solutions reveals 5 important considerations when planning for an outdoor wedding day. Having an outdoor ceremony means there are many ways to personalize your wedding day, but there are also many limitations.
The Guest List
The amount of guests invited really has the greatest impact in determining where the wedding will take place, so before an appointment is made to tour a possible location, couples should first consider how many guests would be in attendance. "This is the first big party that you will throw as a couple", notes Christine Ringuette, owner and lead CT wedding planner at Down The Aisle. "Having a guest list of 200-plus will not work at an intimate, cozy barn or ranch that can only hold 120 guests."
A Location In The Great Outdoors
Getting hitched in the great outdoors is one of the most romantic ways to unite in love. Unlike houses of worship, the outdoors lend itself to the natural surrounding beauty. "Long-distance walks to the ceremony site, or walking on a beach may not be feasible for elderly, young children, or those with disabilities so you may wish to consider shuttle transportation if it is quite a distance" instructs Ringuette. Beaches in general, have one of the most difficult regulations and logistics. Some don't allow glass or liquor, garbage disposal may be an issue, parking can be difficult and keeping guests out of the hot sun and keeping them cool make it challenging. The final consideration for an outdoor wedding is to make sure there are enough restrooms and that they are within close proximity.
Electricity—The Unglamorous Forgotten Detail
An lesson learned from Super Bowl XLVII: When having an outdoor wedding, proper electrical support is a imperative. Also, just because a venue location has a power source available, it does not mean that the total amount of power is usable, nor does it mean just something can plug into it, can it be powered. Ringuette cites, "There needs to be a buffer so that a risk of tripping the breakers is kept to a minimum. Hurricane Sandy taught us to always plan to have more power than you need by considering redundant backup generators (two generators that run simultaneously, but if one fails, the other picks up the load allowing for no outage)" Planning ahead is the only way to minimize or avoid power failures or a facility not having enough power.
Alternate Location And Protection
Always have an alternative/indoor location available no matter what time of the year. Down The Aisle recommends having a tent as this serves as both shelter and protection from the sun in the hot months. Some facilities offer permanent tents on-site that could be used for inclement weather, while locations would need to have a tent-rental company secured. Most tent rental companies offer "tent insurance" where a deposit is required to reserve the tent, but the tent is only installed and set-up that morning with the remaining balance due that day.
Consider The Assistance Of A Wedding Planning Team
The stakes are always high when there's a large group of people celebrating outdoors, and the bride and groom are spending a large sum to make it happen. Instead of getting engrossed in the details, be sure to remember logistics, equipment and day of coordination that are all needed with an outdoor location--or else couples may find themselves with a great deal of regret. Ringuette adds "we know the professionals to aesthetically plan for inclement weather—that blue tarp with the five poles in your garage isn't going to cut it". A wedding planner can accompany on a site tour, or speak with the DJ, live musicians and lighting team to discuss the electrical power supply situation to avoid any mishaps during an outdoor wedding.
For more on how to make an outdoor wedding a smooth event to remember, or to learn more about wedding planning essentials, visit Down The Aisle's website at http://www.downtheaislect.com.
About Down The Aisle
More Than Just A Luxury…Necessity. Down The Aisle is the premier presentation style for wedding planning and design. Specializing in weddings only, their team professionally plans prestigious wedding experiences for their clients' most romantic day. A distinct respite into the selective descriptions of weddings and industry, Down The Aisle is committed to providing peace of mind, attentive organization, day-of coordination and DIY instruction for today's busy bride with expert accoutrement for modern lifestyles. Down The Aisle is located in CT and available for travel.
###