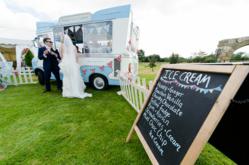 The cocktail hour will now leave the classical pianist behind and instead feature a 'Jack Johnson-esque' guitarist serenading guests while working the room.
Litchfield County, CT (PRWEB) January 17, 2013
Down The Aisle LLC, CT wedding planner experts in wedding design and DIY solutions, identifies the top 5 wedding trends of 2013. The wedding industry draws upon many elements to create its inspiration, such as color, fashion, culture, design, art, travel and architecture. No two weddings are the same but what every couple wants is to make a dramatic statement filled with visual excitement without breaking the bank. Day-of coordination can bring the couple's vision together for a more unified look. Here Down The Aisle showcases the top 5 predicted wedding trends for 2013.
Vintage/Art-Deco
The growing popularity of vintage—its glamour and glitz—continues to be a strong influence. With the remake of the Great Gatsby due to come out this Spring, weddings will feature the art-deco and flapper-style periods with feathers, French lace, hair waves, and red lipstick. Muted color tones such as navy, camel, light yellow, and beige color palettes will tie the look together. "I like using mirrors and table lamps to give a room texture--it creates that old 'Hollywood-Luxe' look," notes Christine Ringuette, owner and lead CT wedding planner at Down The Aisle.
Relaxed Reception Atmosphere
Wedding receptions will continue to offer plenty of dancing, an assortment of food and drink, and cake, but its the manner in which it's done that will be different. The popularity of candy bars, food trucks, and photo booths create a fun, relaxing atmosphere encouraging guest participation. "The cocktail hour will now leave the classical pianist behind and instead feature a 'Jack Johnson-esque' guitarist serenading guests while working the room," says Ringuette. "There are no limits to the types of food that are being served, from local food entrepreneurs serving vegan-friendly fare to BBQ taco catering trucks, couples want their guests fed with a sense of comfort and relaxation."
Tradition Makes A Comeback
Bridal and bridal party attire will feature more modern looks that still hold on to tradition. When it comes to the bride, "Thanks to Lady Diana and Kate, we're observing brides returning to tradition with updo's, veils, lace detailing, and capped or full sleeves," cites Ringuette. Bridesmaids will also feature gowns that are matching in color, but with flair, such as shimmery fabrics, low-backs, or peplums.
DIY Still Dominates
One of the big trends to continue in weddings are personalized elements and DIY (do-it-yourself) creations. Observes Ringuette, "DIY doesn't have to be 'over the top', a touch of color with ribbon or chiffon fabric is a little that can go a long way." Websites like Etsy and Pinterest help brides find inspiration to make paper or fabric flowers, monogrammed favor wraps, paper lanterns, and centerpieces. The DIY trend will continue to grow, as brides see these elements as a way to reflect their personalities in their day. Ringuette offers, "While many of these elements are enjoyable to create, some of them may be complicated or time consuming and brides may want to consider the assistance of a wedding planner/stylist to bring the look together, or find the materials needed."
Honeymoon Wedding Registry
With the average America wedding costing close to $26,000, some couples fear trying to save additionally towards the cost of a honeymoon. For the couple who already lives together and has most of the home necessities, "Signing up for a honeymoon registry can give newlyweds a honeymoon when they were originally thinking of postponing it or forgoing it altogether," cites a Down The Aisle source. Some sites allow guests to donate their air miles, while others allow the couple to choose features of the honeymoon (airfare, accommodations, meals, tours) that guests purchase in increments towards a wedding gift.
To see these trends into fruition, or for further information on wedding trends that are expected to shape 2013, visit Down The Aisle's website at http://www.downtheaislect.com.
About Down The Aisle
More Than Just A Luxury…Necessity. Down The Aisle is the premier presentation style for wedding planning and design. Specializing in weddings only, their team professionally plans prestigious wedding experiences for their clients' most romantic day. A distinct respite into the selective descriptions of weddings and industry, Down The Aisle is committed to providing peace of mind, attentive organization, day of coordination and DIY instruction for today's busy bride with expert accoutrement for modern lifestyles. Down The Aisle is located in CT and available for travel.