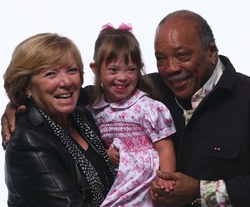 Medical research is central to improving the quality of life of people with Down syndrome
Denver (PRWEB) October 24, 2008
The Anna and John J. Sie Foundation today launched a major campaign to change the nation's approach to Down syndrome. The Foundation's goal is to significantly increase public and private research aimed at eradicating the ill effects associated with the chromosomal disorder and improve the health outcomes for the 400,000 people in the United States, and millions worldwide, with the condition.
Michelle Sie Whitten, the Foundation's executive director, said the Foundation is disappointed that so little public funding is available for Down syndrome.
The total budget for the National Institutes of Health (NIH) was $28.5 billion for FY 2008, but only $13 million was allocated for Down syndrome, the lowest amount for any of the conditions that NIH is targeting. Moreover, much of the public and private research appears to be focused on improving prenatal testing, not on researching the disorder. U.S. data shows that nine out of every 10 fetuses diagnosed with Down syndrome are aborted, indicating a predisposition that seems to reflect the way physicians and families that test prefer to address the disorder.
At the same time, however, the frequency of live births of people with Down syndrome has actually increased from 1 in 800-1,000 to 1 in 733 over the last two decades.
"Women in the U.S are having babies later in life and the amnio statistics simply do not capture how many women each year choose not to have testing," Ms. Whitten said. "We can't ignore the 400,000 people in the US who have Down syndrome or the 5,500 new babies born with this condition each year. We have an obligation to them and their families to also expend resources on how we can improve the quality of life for people with Down syndrome. With amazing new technologies being improved almost daily we can make a huge difference in their lives. We can't turn our backs on them and ignore their needs."
As part of its campaign, the Foundation has committed $34 million to establish the new Linda Crnic Institute for Down Syndrome, which will conduct cutting-edge research and provide clinical care aimed at enhancing the lives of people who suffer from medical or cognitive issues related to the condition. The global institute will be housed at the University of Colorado Denver's Anschutz Medical Campus.
"One of the focuses of the Institute is to better understand ways to improve the cognitive ability of people with Down syndrome," said William C. Mobley, MD, PhD, the Institute's executive director. "We are going to research the genes responsible for the problems with cognition. Through research and improved care, we can make it easier for people living with this disorder to go to school, make friends, have jobs, get married and ultimately live independently. We can help them live richer, fuller lives."
While there are negative medical aspects associated with Down syndrome - higher frequency of congenital heart disease, Alzheimer's and other problems, there are also medical advantages. For instance, there are few known hard tumor cancers in people with Down syndrome. Ms. Whitten said that in either case, expanding research into Down syndrome may also assist with fighting other medical conditions. For instance, many scientists believe that the extra copy of chromosome 21 that causes Down syndrome may somehow suppress hard tumor cancer.
"Researchers must look far more deeply into Down syndrome," Ms. Whitten said. "There is so much that can be learned about how to help those with the disorder, and that knowledge will be crucial in combating other conditions in the mainstream."
Ms. Whitten has a strong personal interest in seeing research priorities changed. Her daughter, Sophia, was born five years ago with Down syndrome.
"We know firsthand the challenges faced by people with Down syndrome," Ms. Whitten said. "But we also have experienced the tremendous joy that Sophia has brought into our lives. I can't imagine life without her. Our entire family is committed to making Sophia's world better. And, we want the millions around the globe suffering from this condition to know that we want their worlds to be better."
Congressman Pete Sessions (TX-32), a leader of the Down Syndrome Caucus that was recently started in the US Congress, strongly supports expanding NIH funding and the scope of its Down syndrome research efforts.
"Medical research is central to improving the quality of life of people with Down syndrome," said Rep. Sessions. "As the father of a young man with Down syndrome, I am committed to expanding resources for both public and private sector research, providing opportunities to address health conditions such as congenital heart disease and Alzheimer's disease and to offer the hope of a brighter future for people with intellectual disabilities around the globe."
Further, Quincy Jones, the world-renown musician and entertainer, is also a strong advocate for changing the prevailing ways of addressing Down syndrome.
"This is a real civil rights issue," said, Mr. Jones, who is a spokesman for the Foundation's campaign. "People with Down syndrome have every right to believe the medical and research communities are working just as hard to figure out Down syndrome as they are Alzheimer's and other diseases and disorders. People with Down syndrome deserve a right to excellent medical care and a public education. Unfortunately this doesn't always happen the way it should in our country and we must advocate on their behalf. That is why the Linda Crnic Institute is so important - it will move research, education and advocacy for these beautiful children."
(Ms. Whitten is available for print, radio and television interviews to discuss the campaign to increase resources for research into Down syndrome. To schedule interviews, please contact: Alicia Ingram at 404-493-1724.)
ABOUT THE ANNA AND JOHN J. SIE FOUNDATION
The Anna and John J. Sie Foundation is a catalyst for improving the lives of people with Down syndrome. The foundation is one of the leaders in funding programs and organizations that are dedicated to research, education, clinical care and advocacy for people with Down syndrome. In a little more than two years, the Foundation has committed more than $36 million in grants and endowments, including funding for the Linda Crnic Institute for Down Syndrome that will fully integrate the highest-quality basic, translational and clinical research, clinical trials, therapeutic development, medical care, education and advocacy.
###