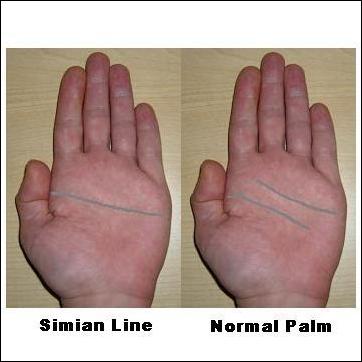 On most people's palms, there are two distinct horizontal lines
Burnaby, BC (PRWEB) April 9, 2007
Kenneth Lagerstrom, a human hand expert with over 30 years experience, has created a new forum at forum.humanhand.com that outlines and discusses possible connections between Down Syndrome and Single Transverse Palmar Crease, or Simian Line. This common hand anomaly has also been associated with other health conditions, such as Turner Syndrome and Trisomy 13, says the hand analysis expert.
"On most people's palms, there are two distinct horizontal lines," Lagerstrom said. "When there is only one line running straight across the entire palm, this marking is known as a Simian Line."
A Simian Line is also called the "Simian Crease," "Simian Fold," "Palmar Crease," "Transverse Palmar Crease," and "Single Transverse Palmar Crease." As many as one in 30 people have this marking on their hands, which has been linked with Down Syndrome, Turner Syndrome, Trisomy 13, and several other health conditions.
"Most people who have a Simian Line on their palms are completely unaware of it, and also unaware of the possible implications. It is my hope that this forum will help to increase awareness, and prompt more detailed medical research into the link between the Simian Line and various congenital health conditions."
About Kenneth Lagerstrom
Kenneth Lagerstrom is a human hand expert located in Burnaby, British Columbia. Lagerstrom owns Red Phoenix Productions where he provides hand analysis and palm reading services, as well as tai chi and stress management training for corporate functions, group lectures and public events. Lagerstrom also offers courses in martial arts and holistic Cheirology. Lagerstrom received the "2001 International Year of Volunteers" certificate for his ongoing research into using fingerprint combinations to diagnose genetic defects. For more information on the Simian Line's connection to Down Syndrome, Turner Syndrome and other health conditions click on the words: Down Syndrome.
###