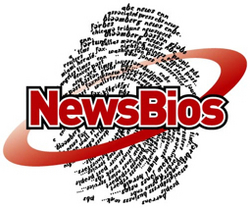 Many professionals, hoping to save a few dollars, think to themselves, 'Why should I pay for a NewsBio when I can get an official bio for free on the Internet?'
Denver (Vocus) February 16, 2010
The unvarnished dossiers of more than 200 of the country's most influential business and financial journalists will be available this week on demand to public relations and media relations executives.
This special 4-day-only event is being conducted as a means of introducing corporate and agency communications executives to the NewsBios-on-Demand 24/7/365 journalism biographies and media research services, according to NewsBios' executive editor Dean Rotbart.
Unlike official biographies or those profiles available for free on the Internet, NewsBios are professionally reported and compiled to paint a full, no-holds-barred personal and professional portrait of journalists whose output influences both consumer and investor decisions.
Each NewsBio delves into the journalists' professional and educational experiences and detects personal details that may have impacted the journalists' approach to their jobs. Examples include health care reporters whose family members have faced major illnesses; Wall Street reporters whose family members work for major investment houses; and numerous business and financial reporters whose spouses or siblings work in the industries they cover.
NewsBios has been providing major global corporations and public relations agencies with journalism dossiers since 1987. The company maintains profiles on more than 7,000 active journalists, a complete list of whom can be found at http://www.newsbios.com. (NewsBios also offers to rapidly build custom profiles on any journalists not already in the company's extensive media library.)
While many NewsBios clients have come to rely on the personal touch offered by its service agents during regular business hours, NewsBios is rapidly expanding the number of profiles that are available 24/7/365 from its NewsBios-on-Demand.com service. The NewsBios-on-Demand.com website allows anyone using a major credit card to order and immediately download the bios of select "in-demand" journalist on nights, weekends and holidays.
From Tuesday, February 16th through Friday, February 19th, all profiles at NewsBios-on-Demand will be available for the reduced price of only $9.95 each. To obtain this special discount, users will have to register with the site and enter the special coupon code "PresidentsDay" at checkout. NewsBios ordered through the normal customer service-supported site (http://www.newsbios.com) or by phone (1-866-NEWS-070) will remain priced at the standard $69.95 rate.
Among the 200-plus journalists' whose recently updated bios are currently being offered at NewsBios-on-Demand.com are:

Ellen Byron – The Wall Street Journal
Dagen McDowell – Fox Business Network
Peter Elstrom - BusinessWeek
Greg Farrell – The Financial Times
Susie Gharib – The Nightly Business Report
Jessi Hempel – Fortune
Stefanie Ilgenfritz – The Wall Street Journal
Linda A. Johnson – Associated Press
Steve Lohr – The New York Times
Donald G. McNeil Jr. – The New York Times
Scott Patterson – The Wall Street Journal
Michael Peltz – Institutional Investor
Chad Terhune – Bloomberg Business Week
Ali Velshi – CNN
Jessica Wohl - Reuters
"Many professionals, hoping to save a few dollars, think to themselves, 'Why should I pay for a NewsBio when I can get an official bio for free on the Internet?'" observes NewsBios' Rotbart, a one-time investigative reporter for The Wall Street Journal.
"The difference between a professionally compiled NewsBio and a 'giveaway bio' is the difference between propaganda and investigative reporting," Rotbart maintains. "When your company's or client's reputation is riding on the outcome of a news story, which resource do you want to rely upon?"
Rotbart notes that NewsBios aggregates and sifts information from more than 60 sources of public information and combines that research with its own analytics and proprietary databases. Among the core advantages of a NewsBio over self-conducted media research is that because NewsBios tracks so many journalists, the service is able to compare/contrast journalists with their peers and competitors.
"Trying to do it yourself will give you a glimpse of a single journalist," Rotbart explains. "But we know not only our journalists in great detail, but also their bosses, colleagues and competitors. We tell our clients how typical or atypical each journalist is."
Those wishing a free, no-obligation sample NewsBio can also order one by registering online and selecting the "print and call" option at checkout. Those who wish to pay and download any of the 200-plus NewsBios-on-Demand, should enter the "PayPal" option. Customers can use their credit card through PayPal without having to become a PayPal member.
For additional information, public relations and media relations executives may visit the NewsBios web sites (http://www.newsbios.com and http://www.newsbios-on-demand.com) or phone during regular business hours, 1-866-NEWS-070, ext. 2.
# # #