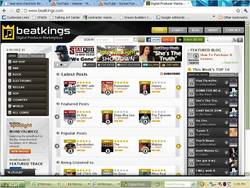 We have developed the most in-depth and functional music production web application in the industry
San Bruno, CA (Vocus) November 24, 2010
BeatKings.com has revolutionized the discovery and licensing process of music online. They are the first to offer beats, beats with hooks, songs, and vocals for users to download instantly after purchase. This makes BeatKings.com the most efficient hub for purchasing music compositions for both aspiring and established recording artists looking for the easiest and most affordable way to build a chart-topping song or album.
BeatKings.com allows artists from all over the world to filter and browse by charts, genre, beats per minute (BPM), top-rated posts, most popular posts, and file type. The BeatKings.com dashboard also supports users lyrics and play list management.
"We have developed the most in-depth and functional music production web application in the industry," said Abe Batshon, chief executive officer of BeatKings.com. "Whether it's hip hop beats from Grammy Award winning producers or a beat equipped with professional vocals by some of the best singers and songwriters in the game, BeatKings.com makes music licensing simple, affordable, and hassle free."
BeatKings.com offers licenses for works ranging from inexpensive, non-exclusive compositions to highly customized exclusive and synchronization compositions. Music supervisors and A&Rs from major entertainment companies use the BeatKings.com store as a tool to discover music for their projects. The old way of discovering a hit record has transformed into the digital world, as artists like 50 Cent and Soulja Boy have already made chart topping songs by licensing online.
For more information about BeatKings.com, call (888) 452-3287, email info(at)BeatKings(dot)com, or visit their website http://www.BeatKings.com.
About BeatKings.com
BeatKings.com is a groundbreaking online Digital Producer Marketplace that specializes in real time distribution of instrumental beats, rapping beats, hip hop beats and downloadable instrumentals, rap downloads, and hip hop downloads. They offer their talent to many regions including The United States, Canada, United Kingdom, Netherlands, France, Germany, and many other countries.
BeatKings.com is the first site of its kind to offer Grammy Award Winning producers' work via online license. BeatKings.com's producers and songwriters have worked with well-known artists like Eminem, Beyonce, Britney Spears, Lil Wayne, Justin Bieber, T.I., Christina Aguilera, P. Diddy, Jennifer Hudson, Fantasia, Mary J. Blige, Ne-Yo, 50 Cent, Young Jeezy, Tech N9ne, The Game, Jadakiss, Styles P, Keyshia Cole, Redman, Black Eyed Peas, Scarface, Bun B, Missy Elliot, and Drake.
###