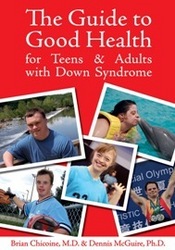 Drs. Chicoine and McGuire have created a must-read book for families and health care providers who care for adults with Down syndrome. This accessible and encyclopedic work will always be on my shelf. An essential guide to caring for adults with Down syndrome, it covers the latest of the medical literature as well as indispensable pearls from their 18 years of clinical experience.
Bethesda, MD (Vocus) October 14, 2010
New book: The Guide to Good Health for Teens & Adults with Down Syndrome
The Guide to Good Health for Teens & Adults with Down Syndrome presents the gold standard of health and wellness care that all families, caregivers, and medical professionals should aspire to.
Written by Drs. Chicoine and McGuire, it's the companion book to the highly acclaimed Mental Wellness in Adults with Down Syndrome (Woodbine House, 2006). Both of these comprehensive resources are the culmination of the authors' experiences serving the health needs of over 4500 people with Down syndrome since 1992 at the well-respected Adult Down Syndrome Center at Advocate Lutheran General Hospital in suburban Chicago.
In this new book, Drs. Chicoine and McGuire provide invaluable insight into what health problems are more common in their patients, and how medical issues can "present" differently in people with Down syndrome. In a clear, empathetic style, they discuss how to promote a healthy lifestyle to prevent problems, and how to recognize health problems early on to ensure appropriate care and the best outcome. The Guide to Good Health is a resource families and caregivers can refer to over and over again, whether it's to find strategies to get a teen or adult to cooperate with treatment, or to consider if a symptom is being misdiagnosed or misunderstood.
Key topics include:

Characteristics of Down syndrome that can affect health care
More commonly occurring medical issues
The connection between mental & physical health
Dealing with hospitalizations
Long term health and well being throughout the lifespan
Advance directives and end of life issues
Specific medical conditions (ranging from skin and nail problems, eye, nose and throat issues, and cardiac concerns, to thyroid disorder, diabetes, Alzheimer disease, and sleep problems)
For each condition, the authors discuss symptoms, the diagnostic process, and treatment options, and provide abundant case studies throughout.
Publication Details:
ISBN: 978-1-890627-89-8 Publication Date: September 2010
Format: Paperback Length: 392 pages
Size: 7" x 10" Price: $29.95
Praise:
"Drs. Chicoine and McGuire have created a must-read book for families and health care providers who care for adults with Down syndrome. This accessible and encyclopedic work will always be on my shelf. An essential guide to caring for adults with Down syndrome, it covers the latest of the medical literature as well as indispensable pearls from their 18 years of clinical experience."
-Peter Bulova, M.D.
Medical Director of the University of Pittsburgh Adult Down Syndrome Center
"*This extremely informative volume for DS caregivers should have a place in all consumer health libraries serving patrons with DS."
-Library Journal (*starred review), September 2010
Note:
Under current consideration by Library Journal for their Best Books 2010, Top Ten List
To request a review copy or an interview with the authors:
Contact the publisher
###