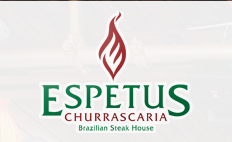 Experience the authentic flavors of Brazil at Espetus Churrascaria, the Bay Area's first Rodizio-style ('continuous service') restaurant
San Mateo, CA (PRWEB) April 18, 2012
With Mother's Day fast approaching, it is time to begin considering dinner reservations for spoiling mom. One of the best and most unique fine dining options for downtown restaurants is the San Francisco and San Mateo downtown restaurant, Espetus Brazilian Steak House, which is currently announcing a Mother's Day special for May 13.
"We will be offering a $54.95 all-you-can-eat Brazilian Rodizio menu that will include a bountiful gourmet salad bar with ceviche, a hot dish buffet that includes our signature paella, and continuous selections of sizzling cuts of beef, lamb, chicken, pork, sausage and shrimp carved tableside," Ilana Teles of Espetus Brazilian Steak House said.
Espetus Brazilian Steak House will be open from noon until 9 p.m. on May 13, and reservations are recommended. Taxes, gratuity, desserts and beverages are additional.
Mother's Day is a day for fathers and children to offer mothers love and spoiling. Celebrating at Espetus not only gives mothers the night off but also introduces them to a unique private dining experience, Brazilian style.
"Experience the authentic flavors of Brazil at Espetus Churrascaria, the Bay Area's first Rodizio-style ('continuous service') restaurant," Teles said. "Espetus Churrascaria provides customers a great Brazilian dining experience that is perfect for any celebration."
For more information about Espetus Brazilian Steak House or its Mother's Day special, call 650-342-8700, view the restaurant on the web at http://www.espetus.com, or visit 710 South B St. in San Mateo or 1686 Market St. in San Francisco.
About Espetus Brazilian Steak House
Espetus Brazilian Steak House is a Brazilian Churrascaria restaurant with locations in San Francisco and a downtown restaurant in San Mateo. It features a private dining experience with quality cuts of meat that are grilled over an open flame and then served tableside to guests. It also offers a salad and hot plate bar, completing the full Brazilian dining experience.