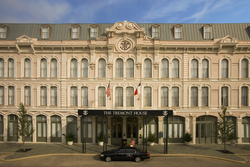 Galveston Island, Texas (Vocus) February 4, 2010
The Tremont House, a Wyndham Grand Hotel, invites guests to make more time for themselves as part of their New Year's Resolution and experience one of Texas' most distinctive shopping destinations in historic downtown Galveston. The hotel is offering a Downtown Galveston Shopping Spree package now through the end of February.
The package includes an early check-in and late check-out, Tremont House tote bag, 15 percent discount at The Spa at the Hotel Galvez boutique, 10 percent discount at Tremont Café and discounts to select downtown shops.
The hotel's two-night package is available weekends in January and February, excluding Feb. 5-7 and Feb. 12-14, and starts at $425 for the weekend. During the week, guests can book a one-night package which starts at $125 and add an additional night for $105.
The Tremont House is conveniently located within walking distance to various shops, boutiques, restaurants, galleries and attractions. In addition to shopping downtown, The Tremont House is located across the street from ETC at Strand Theatre and within blocks of The Grand 1894 Opera House.
The Tremont House, a National Trust Historic Hotel of America, is owned by the George Mitchell family and part of Mitchell Historic Properties. For reservations, call (409) 763-0300, (800) WYNDHAM, or visit http://www.WyndhamTremontHouse.com and see special offers.
The Tremont House participates in the Wyndham Rewards® program, the world's largest lodging loyalty program based on the more than 6,000 participating hotels, and offer the brand's Wyndham ByRequest® personalized benefits including free high speed Internet access and favorite snack and beverage. Wyndham Rewards® points can be redeemed for complimentary hotel stays, airline tickets, name-brand merchandise and dining and shopping gift cards, among other options. In lieu of points, Wyndham Rewards members may elect to earn airline or rail miles with a variety of participating companies. More information is available at http://www.wyndhamrewards.com .
Wyndham Hotels and Resorts, LLC and its affiliates, subsidiaries of Wyndham Worldwide Corporation (NYSE: WYN), offer upscale hotel and resort accommodations throughout the United States, Europe, Canada, Mexico, China and the Caribbean. All Wyndham hotels are either franchised or managed by the company or managed through a joint-venture partner.
MEDIA CONTACT: Christine Hopkins, Mitchell Historic Properties • (409) 457- 1055, chopkins(at)mitchellfamilycorp(dot)com
Mitchell Historic Properties Pressroom: http://www.mitchellhistoricproperties.com
###