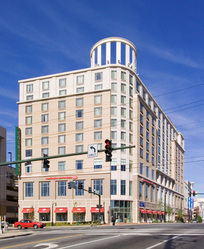 Silver Spring, MD (PRWEB) May 9, 2010
Staying connected is always vital when traveling whether staying abreast of business news and correspondence or keeping in touch with family and friends, and now the Courtyard Silver Spring Downtown hotel offers both wired and wireless high-speed Internet access, recently completing installation of a new, ultra-fast wireless network.
"Our hotel caters to all sorts of travelers and we do our best to offer them the connectivity that they have come to expect," said David Shoshan, the hotel's General Manager. "Our new wireless upgrade will help them to stay connected to friends and family when they're traveling for fun; and it keeps them up to speed with their business obligations. The whole team here on property is excited to offer the new service. We know it will make a difference to our clients and that's really the point."
The wireless Internet upgrade was completed in January 2010 and guests now have the option of connecting to the Internet the traditional way through the hotel's high-speed wired network, or accessing the new wireless service which is available in all of the hotel's Silver Spring suites and guest rooms as well as throughout the hotel property.
Located in the heart of the new downtown redevelopment project, the Marriott's Courtyard hotel provides first-class Silver Spring accommodations with easy access to a variety of local businesses and corporations, as well as being one of the finest Silver Spring hotels near Howard University, the University of Maryland and Montgomery College's Silver Spring campus. The Courtyard Silver Spring Downtown is also conveniently located near the exciting American Film Institute's Silver Theatre and Cultural Center and is located across the street from Discovery Communications' world headquarters.
Providing first-class Silver Spring lodging near Metro Rail access, guests can easily discover and explore all the excitement of the Washington D.C. area while enjoying the fine comforts and amenities and the relaxed atmosphere of downtown Silver Spring, where there is an abundance of retail shops, quaint sidewalk cafes and fine restaurants.
Courtyard Silver Spring Downtown hotel accommodations offer a variety of spacious guest rooms and suites, all featuring luxury bedding ensembles of cotton-rich linens and soft pillows along with 32-inch LCD televisions and premium movie channels. The hotel's Gazebo Grill is open for breakfast and dinner offering a full breakfast buffet and dinner menu of fine American cuisine.
About the Courtyard Silver Spring Downtown Hotel
In addition to offering impeccably detailed hotel accommodations, the Courtyard Silver Spring Downtown hotel has an array of business amenities along with 1,400 square feet of meeting space to accommodate business or social events and each guest room is equipped with spacious desks, an iPod docking station, mini-refrigerator and coffee maker for the convenience of hotel visitors. Guests also have complimentary use of the hotel's 28,000 square foot fitness center with Olympic lap pool, cardiovascular equipment and free weights.
###