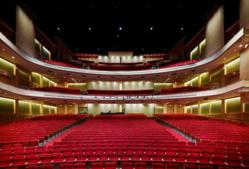 Ms. Gragg stated, "Broadway and live music have been lifelong passions of mine. I am honored to be stepping into this expanded role.
Durham, NC (PRWEB) December 28, 2011
Nederlander / PFM, operators of DPAC, announced today the promotion of Rachel Gragg to Senior Director of Marketing. Ms. Gragg previously held the dual role of Director of Marketing of Concerts and Director of Public Relations at DPAC. Ms. Gragg has been part of the DPAC staff since the venue opened in 2008.
Ms. Gragg stated, "Broadway and live music have been lifelong passions of mine. I am honored to be stepping into this expanded role. The opportunity to work with a great team and to continue making DPAC the Triangle's favorite place for live entertainment, is unbeatable. Great things lie ahead."
Bob Klaus, DPAC General Manager said; "There is no better match for DPAC. Ms. Gragg has been an integral part of our success including every one of our 150 sellouts and the over 1 million guests that came to see our superstar shows. Ms. Gragg's new position will play a key role across multiple marketing platforms and events, but most importantly will be responsible for our flagship series, SunTrust Broadway at DPAC."
Ms. Gragg brings eight years of arts and entertainment marketing experience to her new role at DPAC. Prior to joining the DPAC team, she was Media Relations Director at the Progress Energy Center for the Performing Arts. Ms. Gragg's tenure at DPAC has focused on establishing DPAC's branding as well as market-leading online and social media marketing. Under her leadership the Center has excelled in concert and comedy event ticket sales, which have been important aspects in DPAC being listed in the top 10 venues in America since opening. Under Gragg's direction, DPAC also launched Triangle Rising Stars, a local qualifying event as part of The National High School Musical Theater Awards, which celebrates outstanding student achievement in high school musical theater.
Ms. Gragg is a North Carolina State University graduate with a Master's degree in Public Administration and a Bachelor of Science degree in Marketing and Music Performance. She is a member of the Triangle American Marketing Association, Triangle Interactive Media Association, and The Broadway League. She is also a coach for the Leukemia and Lymphoma Society's largest fundraising endurance program Team in Training.
About DPAC
Recently listed at the #1 Performing Arts Organization in the Triangle by the Triangle Business Journal, DPAC, Durham Performing Arts Center is operated under the direction of Nederlander and Professional Facilities Management (PFM). DPAC is a 2,700 capacity multi-use theatre that features the hottest Broadway and family shows, high-profile concerts and incredible special events. Listed five times in the top 50 in Pollstar magazine's Top Theater Venues, and currently ranked #3 in US Theaters, DPAC has become a beacon of energy in the Triangle and the region's award winning home for superstar entertainment. DPAC is also home to SunTrust Broadway at DPAC with over 10,000 season ticket holders and show stopping Broadway engagements of Wicked, Memphis and much, much more. For more information please go to http://www.DPACnc.com.
###