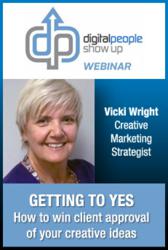 Minneapolis, Minn. (PRWEB) March 12, 2012
Digital People, an Atterro company, announces its upcoming webinar, "Getting to Yes" to be conducted March 14, 2012 at 12:00pm CDT, as part of its DP Show Up event series.
"Getting to Yes" is aimed at creative and marketing professionals, and will focus on the presentation of ideas, including how to obtain useful feedback from clients, as well as the importance of demonstrating knowledge of client's challenges and providing answers for those challenges. Attendees will learn how clients are different from creatives and how to win approval of their creative ideas.
The webinar will feature guest speaker Vicki Wright, an independent creative marketing consultant who has more than 20 years' experience driving strategy and leading agency and in-house creative teams across all media. Clients have included Intel, IBM, Chase Bank, Verizon, 3M, Acura, Amana, the Minnesota Orchestra, Piper Jaffray, Travelers and Westlaw. Wright regularly conducts workshops on creative presentation skills and has taught classes on brand strategy, copywriting, and account management.
To register and learn more, please visit:
http://digitalpeople.createsend1.com/t/ViewEmail/r/B407185921F5D607
Digital People is a division of the Atterro Human Capital Group. The Atterro Human Capital Group offers interim staffing, executive search and SmartSourcing services to national and global customers. Atterro services are delivered by experienced industry professionals utilizing the latest research, recruiting technology and assessment tools. Atterro Human Capital Group offers its services through its four specialty brands—Digital People Creative and Marketing, Hunter Hamilton Finance and Accounting, Pro Staff Administrative and Light Industrial, and Ware Technology Services for engineering and information technology. To learn more, visit http://www.atterro.com.
Contact:
Jonah Cagley
Group Marketing Director
email: Jonah(dot)cagley(at)atterro(dot)com
ph. 612‐373‐2655
Atterro Human Capital Group
50 South 10th St., Suite 500
Minneapolis, MN 55403
http://www.atterro.com
###