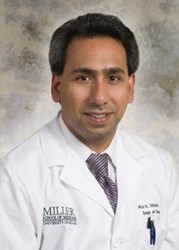 There is a difference between obesity and weight gain, a change in health habit is the first line of defense followed by surgery if necessary. To learn more call: 800-472-4900
Los Angeles, California (PRWEB) January 15, 2013
The primary symptoms of obesity is a larger than usual BMI. Some additional symptoms include joint disease, difficulty breathing, high cholesterol, and high blood pressure. Statistics have shown that an unhealthy diet in addition to a lack of exercises are to blame for obesity. Even though the social causes of the problem are yet to be fully analyzed, the increasing reliance on mechanization is a factor. The sedentary lifestyle of many American is another cause for obesity.
Bariatric surgeon Dr. Atul Madan recommends that people with weight issues adopt a change in diet and life style. In addition, a less sedentary lifestyle involving series of daily exercises should be adopted. For obese patients, the LAPBAND surgery could be a boost in the fight to regain a healthier BMI.
Specific criteria should be met for patients willing to try the LAPBAND surgery. According to Dr. Atul Madan, only patients with a BMI of 40 or higher who have been unsuccessful with other method and diets should consider the option. Dr. Atul Madan bariatric surgeon is now offering a 20 min free initial consultation to assist his clients in choosing the right course of action and determine whether they are good candidates the LAPBAND procedure.
The LAPBAND procedure requires an adjustment of the upper part of the stomach where a pouch is placed in order to narrow the passage of food to the other part of the stomach. If successful, the procedure is usually followed with a skin removal surgery. Dr. Madan's patient reviews shows an increase in the number of successful LAPBAND surgeries over the years.
Dr. Atul Madan is a renown expert in both bariatric and laparoscopic systems. He has performed over 2,000 LAPBAND procedures in the course of his career. He is among one of the first surgeon to offer an endoscopic treatment for weight regain after open and laparoscopic gastric bypass. Dr. Atul Madan is the author of several publications on bariatric surgeries including a video on how to perform a laparoscopic gastric adjustable banding. He is the recipient of several honors and awards from the International Federation of Societies for Obesity, Society of Laparoendoscopic Surgeons, and Association of Association of Cancer Education.
For more information or to schedule a free initial consultation contact Dr. Madan:
Call: 800-472-4900
or Visit: http://www.vitals.com/doctors/Dr_Atul_Madan.html