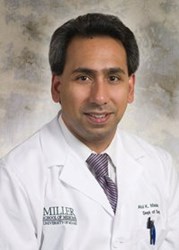 Dr. Atul Madan Offers a Surgical Solution As Last Resort For Those Fighting Obesity & a 20 Min Initial Evaluation to Indicate Whether this is the Right Procedure, 800-472-4900.
Los Angeles, CA (PRWEB) January 18, 2013
As the number of adults with obesity or borderline obese increases, the rate of heart disease related issues and diabetes also sky rockets.
Dr. Atul Madan Bariatric surgeon reminds individuals of health problems associated with adult obesity and offers information on the four major health complications associated with obesity. He also offers a free consultation through the month of February.
Adults with obesity are more likely to have certain health problems than adults who are not obese. The four major health problems linked to obesity are:
1- Cardiovascular problems and Heart disease; people who are obese have an increased risk of:

Heart disease, such as coronary artery disease, heart failure, angina, heart attack, and an abnormal heartbeat.
High cholesterol and triglycerides in the blood, as well as lower levels of "good" HDL cholesterol.
High blood pressure. High blood pressure in obese men may also increase the risk of kidney cancer.
Stroke.
2- Diabetes:
Developing insulin resistance is more likely in people who are obese, which can lead to type 2 diabetes.
As BMI increases the risk of type 2 diabetes also increases. People who have a higher percentage of body fat in the abdominal area are at increased risk for type 2 diabetes, even if their BMIs are within the normal range. (Higher than 40 inches in men and greater than 35 inches in women)
3- Cancer
People who are obese are at greater risk for different types of cancer, including:

Endometrial cancer.
Breast cancer after menopause.
Colorectal cancer.
Esophageal cancer.
Kidney cancer.
4- Breathing problems
Individuals with borderline obesity or may have difficulty breathing, causing the following problems:

Being more likely to have sleep apnea.
Obesity is linked with a higher chances asthma development.
People who are obese tend to take smaller and shallower breaths. These small, gasping breaths cannot get the needed amount of oxygen into the blood, leaving them always tired. Pickwickian syndrome can eventually lead to heart problems.
Dr. Atul Madan is a renown expert in both bariatric and laparoscopic systems. He has performed over 2,000 LAPBAND procedures in the course of his career. He is among one of the first surgeon to offer an endoscopic treatment for weight regain after open and laparoscopic gastric bypass. Dr. Atul Madan is the author of several publications on bariatric surgeries including a video on how to perform a laparoscopic gastric adjustable banding. He is the recipient of several honors and awards from the International Federation of Societies for Obesity, Society of Laparoendoscopic Surgeons, and Association of Association of Cancer Education.
For more information or to schedule a free initial consultation contact Dr. Atul Madan:
Call: 800-472-4900
or Visit: http://www.vitals.com/doctors/Dr_Atul_Madan.html