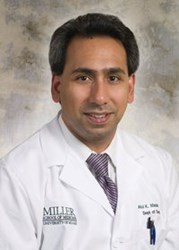 There is a difference between obesity and weight gain, a change in health habit is the first line of defense followed by surgery only if necessary. To learn more call: 800-472-4900
Los Angeles, CA (PRWEB) January 22, 2013
Although obesity does cost a person medically and in quality of life, it is not impossible to reverse. According to the American Society of Metabolic and Bariatric Surgery, over 3,200 gastric banding patients were surveyed, and between 1994 and 2011, over 75% of them maintained their 50% weight loss. Most of the patients were women (around 78%), and over age 45, and some of them even had the gastric band taken off within the duration of the study.
Although the LAP-BAND® Adjustable Gastric Banding System (LAP-BAND®) is not the only surgical method for treating obesity, bariatric surgeon Dr. Atul Madan cautions patients on complications with other methods involving gastric bypass. "Staple-line failure resulting in …weight regain is a worrisome complication", said Dr. Atul Madan, referencing a complication with a patient's staple-line surgery "which resulted in complete weight regain".
Weight regain is not only a financial loss due to the surgery, it also makes lifestyle change much more difficult for the patient, who may also suffer post-operative depression. Oprah Winfrey's bouts with depression following the effects of 'yo-yo dieting' have been highly publicized, and is a good indicator of the discouragement that may set in after significant effort has been expended to curb obesity. Since over 1/3 of Americans suffer from obesity, according to the Center for Disease Control and Prevention (CDS), it's good news that gastric banding can be used to significantly reduce weight long-term.
In fact, bariatric surgery or gastric banding such as the LAP-BAND® system may be the most effective method for maintaining a large weight loss, says Dr. Atul Madan. Although he cautions patients that they must meet certain parameters (BMI of over 40, BMI of 35 with weight-related issues, or significant lack of success with weight loss), it's certainly evident that some methods are better than others.
Nor is it a new finding that bariatric surgery is an effective method for severe obesity. In a December 2008 article, the International Journal of Obesity stated that "bariatric surgery is considered the most effective method for producing long-term weight loss...On average, individuals who have bariatric surgery lose about 25% of their initial body weight within the first 12 months postoperatively." The article did mention that no study had yet been done to test long-term weight loss.
As a LAPBAND surgeon Dr. Atul Madan has written 175 articles, and was the first in Memphis to perform a laparoscopic gastric bypass. To date, he has performed over 2,000 laparoscopic gastric bypasses and gastric banding procedures, and was first to offer an incision-less treatment for post-operative weight gain. As the former Chief of Laparoendoscopic and Bariatric Surgery Division at the University of Miami, he may well be considered an expert in his field. Now he offers his expertis to improve his patients quality of life and health in Los Angeles, Dr. Atul Madan is offering a 20 minute free initial evaluation to allow his patients to hear their options to make an inform decision about the best course of treatment.
Dr. Atul Madan's medical degree was obtained at the Medical College of Pennsylvania, and he has served on highly regarded committees such as the American Society for Metabolic and Bariatric Surgery and the Society of American Gastrointestinal Endoscopic Surgeons. Dr. Madan won the 2007 SAGES Young Investigator Award, was honored by the American Medical Association Physican's Recognition Award, among others. Dr. Madan's patient reviews are consistently high, and he received the 2011 and 2012 Patients' Choice Award.
For more information on bariatric surgeon Dr. Atul Madan or the LAP-BAND procedure, call 1-800-472-4900, or review more on Dr. Madan on http://www.obesityhelp.com/profiles/bariatric-surgeon/dr-atul-madan/.