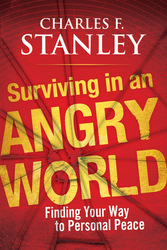 Anger doesn't die out. It must be rooted out.
Atlanta, GA (Vocus) September 29, 2010
In his newest book Surviving in an Angry World, Dr. Charles Stanley states that "anger doesn't die out. It must be rooted out." The key lies in understanding the origin of the anger and responding appropriately to it. He acknowledges that it's not always easy to do. And that's why the book offers scriptural passages, practical advice, workbook-style exercises, lifestyle suggestions, and anecdotes to help readers stop nurturing and feeding even the most persistent or deep-seated resentment. The New York Times best-selling author of 35 books is also host of In Touch With Dr. Charles Stanley TV and Radio programs. A passionate speaker and beloved teacher, Stanley hopes his latest book will guide people to forgiveness and healing.
Atlanta, GA - October 3
8:00am, 12:00pm
First Baptist Church Bookstore
4400 North Peachtree
Atlanta, GA 30338
770-234-8300
Toronto, ON- October 5
4:00pm
In Touch Ministries Bookstore
150 Riviera Dr., Markham, ON L3R 5MI
800-323-3747
Bronx, NY-October 6
5:00pm
Barnes and Noble
290 Baychester Ave.
Bronx, NY 10475
718-862-3945
Ridgewood, NJ - October 7
12:00pm
Bookends
201 East Ridgewood Drive
Ridgewood, NJ 07450
201-445-0726
Baltimore, MD - October 7
6:00pm
Barnes and Noble
1819 Reisterstown Road
Baltimore, MD 21208
410-415-5758
Manassas, VA - October 8
12:00pm
Family Christian Stores #157
10404 Portsmouth Rd.
Manassas, VA 20109
703-330-7845
Rancho Cucamonga, CA– October 9
12:00pm
Long's Christian Books
8643 Baseline Road,
Rancho Cucamonga, CA
909-987-0406
Palm Desert, CA – October 9
6:00pm
Family Christian Stores
73405 Highway 111 # 4c
Palm Desert, CA
(760) 776-4588
Phoenix, AZ - October 10
12:00pm
Borders
2402 E. Camelback Road, Suite 200
Phoenix, AZ 85016
602-957-6660
Flagstaff, AZ – October 10
6:00pm
Hastings
1540 S Riordan Ranch St
Flagstaff, AZ
(928) 779-2054
Tulsa, OK - October 13
12:00pm
Barnes and Noble
8620 E. 71 Street
Tulsa, OK 74133
918-250-5034
Fayetteville, AR - October 13
6:00pm
Walmart Supercenter (#144)
2875 W. Martin Luther King
Fayetteville, AR 72704
479-582-0428
Little Rock, AR - October 14
12:00pm
Books-A-Million
2747 Lakewood Village Drive
North Little Rock, AR
501-771-7581
Memphis, TN - October 14
6:00pm
Barnes and Noble
2774 N. Germantown Parkway
Memphis, TN 38133
901-386-2468
Jackson, MS - October 15
6:00pm
Books-A-Million
4950 155 North
Jackson, MS 32911
601-366-3008
Fairhope, AL - October 16
12:00pm
Page and Palette
32 S. Section Street
Fairhope, AL
251-928-5295
Baton Rouge, LA - October 16
6:00pm
Barnes and Noble
2590 Citiplace Court
Baton Rouge, LA 70808
225-926-2600
###