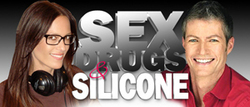 Venice, CA (PRWEB) September 25, 2008
Dr. Frank Ryan, philanthropist, celebrity plastic surgeon of the stars, author of the soon-to-be-published book "Sex, Drugs and Silicone," and FM radio talk show host, is excited to announce the astounding success of his radio talk show of the same title on KLSX 97.1 aired between 5 p.m. and 6 p.m. on Saturdays. Hosted by the wildly entertaining Sam Phillips of CBS Radio, with celebrity guest appearances by Kendra Wilkinson, Gloria Allred, Janice Dickinson, Gary Busey and others, the show uncovers myths and sheds light on one of the biggest, most well-kept secrets in Hollywood in an informative and highly-charged radio show.
Dr. Frank Ryan has appeared on E!'s "The Girls Next Door," A&E TV's "Gene Simmons Family Jewels" and Oxygen Network's "Janice Dickenson Modeling Agency." Instead of solely indulging himself in the glamour of Hollywood, he devotes a considerable amount of resources to behind-the-scene charitable work. For example, he is known as the personal plastic surgeon of Oscar de La Hoya; but lesser known is his involvement with the former boxing champion's prized Golden Boy Promotions, whose highly aesthetic work makes a difference in the lives of underprivileged and at-risk youth. Tucked away in the remote hills of Malibu, in an expanse of 26 acres of breathtaking scenery with 30 animals, is Bony Pony Ranch, a non-profit organization Dr. Frank Ryan founded that helps deprived inner city youth reach and exceed their potentials. The institute is created to provide a nourishing atmosphere where young people bring about their otherwise overlooked talents and set and achieve new goals in life, by exposing them to new role models and mentors who exert positive influences. What is more extraordinary than undergoing a remarkable transformation in this unique setting?
Coming soon to bookstores near you is Dr. Ryan's book "Sex, Drugs and Silicone" that he penned, worked and re-worked on tirelessly. He encourages you to visit his website at http://www.bonyponyranch.com where you can learn more about the foundation and make a charitable donation, and tune in to his show on KLSX 97.1 between 5 p.m. and 6 p.m. every Saturday to be informed and entertained by his professionalism, conviction and humor, or to see the taping of the show, go to http://www.sexdrugsandsilicone971.com.
###