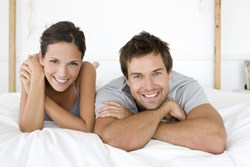 Los Angeles, California (PRWEB) December 10, 2013
Dr. Kanani, a popular dentist in Woodland Hills, is pleased to unveil his revolutionary technique of inserting dental implants.
Dr. Kanani's passion and dedication to the art of inserting dental implants has encouraged him to engineer a method that brings the cost of dental implants down by $4,000. Not only that, his patients undergo less pain and recovery time as opposed to those who opt for the conventional method. According to Dr. Kanani, the only way for potential patients to truly appreciate his method of inserting dental implants is to first understand the concept of dental implants as a whole.
1. What are Dental Implants?
Dental implants are a way to replace missing teeth. A small titanium shaft is surgically implanted into the jawbone and left to set. This shaft is known as the dental implant. The bone will then grow around this shaft, forming a tight connection. This will either slow or stop more bone loss from occurring. Once the shaft has firmly set, the dentist will attach the replacement tooth over it.
2. What is the Conventional Method of Inserting Dental Implants?
This is commonly known as the Flap Procedure. This procedure encompasses the dentist cutting into the gums and drilling into the jawbone to create a gap. The dentist will then insert the titanium implant into the gap and close it up to heal. The healing process ranges from patient to patient but generally takes between four to six months. It is important to note that patients who require dental implants probably already encounter moderate to severe jawbone reduction. This happens when a person has been living with tooth loss for a long period of time. When this happens, a bone graft surgery must first be done before the implants can be inserted. This means that patients have to undergo surgery to remove a small black of bone from another part of the body. This block of bone will then be placed into the jawbone before the titanium shaft can be inserted in. Bone graft surgery plays a significant role in how much dental implants cost. Most of the time, it will cost patients over $4,000. Additionally, patients have to undergo surgery face a very long recovery period.
3. What is Dr. Kanani's Method of Inserting Dental Implants?
Thankfully, this top Woodland Hills dentist has figured out a way to get rid of painful cutting, drilling, and the unnecessary bone graft surgery. Known as the Flap-Less/Drill-Less Surgery method, Dr. Kanani performs this procedure by using several instruments to expand the jawbone. A gap is formed and the titanium shaft is placed into it. Because this dentist from Woodland Hills eliminates the need for his patients to go through bone graft surgery, the entire procedure of getting dental implants will cost a lot less.
This popular Woodland Hills dentist also offers a procedure known as mini dental implants. These implants are mainly used to stabilize lower dentures and can be placed in one session. Dr. Kanani, DDS, recommends that patients meet with him to discuss the various possibilities afforded to them. This dentist in Woodland Hills is offering first-time patients a complimentary consultation, so those who are interested should contact the clinic by calling (818) 962-1141 or visiting woodlandhillsdentalspa(dot)com.