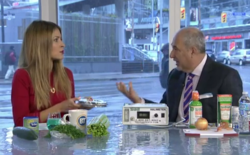 Follow Dr. Harold Katz, founder of TheraBreath® during his North American Tour to fight Bad Breath.
(PRWEB) May 22, 2012
Dr. Harold Katz, author of the Bad Breath Bible and founder of the popular TheraBreath® product line, has begun another North American tour to enlighten consumers about oral health and why halitosis affects so many people. Appearing on numerous television shows like the CBS Early Show and The View with Barbara Walters, Dr. Katz has been called the "Bad Breath Guru" because of his extensive knowledge regarding all aspects of oral hygiene including dry mouth, tonsil stones and unpleasant mouth tastes. Millions of people have eliminated chronic bad breath by taking his advice and using his clinically tested oral hygiene TheraBreath® products.
To find out more about Dr. Katz and his amazing oral health products, tune in to KCTE-AM 1510 on May 22, 2012 to hear Rob Kingsbury, host of the talk show "Total Health" discuss "Toxic Toothpaste--Canada May Ban Popular U.S. Ingredient" with Dr. Katz. Total Health is a humorous yet practical look at health and fitness topics hosted by Kingsbury.
On June 26th, 2012, Dr. Katz will also be talking about bad breath and oral hygiene on the 9 News Morning Show hosted by Gregg Moss and found on station KUSA/KTVD 9 News 20 originating from Denver, Colorado at 8:30 am.
Appearance Dates
May 22, 2012 – KCTE-AM 1510 on the Ron Kingsbury talk show "Total Health".
June 26, 2012 –Morning News Show on KUSA/KTVD 9 in Denver, Colorado at 8:30am.
Previous Appearances
Dr. Katz has also appeared on Toronto CityTV news show providing an in-depth discussion regarding the cause of bad breath and what you can do about it. Here is another television appearance by Dr. Katz discussing bad breath.
A graduate of the UCLA School of Dentistry, and holding another degree in Bacteriology, Dr. Katz began his career practicing dentistry during the 1970s in Beverly Hills, California. While trying to help his adolescent daughter overcome a severe issue with bad breath, he began researching the causes of halitosis and experimented with methods to relieve the symptoms. Even though she was using popular commercial gargles and mouthwashes and brushing her teeth several times each day, Dr. Katz's daughter continued to experience bad breath, much to her embarrassment.
Armed with his knowledge of bacteria, Dr. Katz began investigating a group of bacteria known as sulfur-producing, anaerobic bacteria - a type of microorganism that breeds within, rather than on, the surface of the tongue as well as the back of the throat. He came to realize that bad breath is not generated by digestive system processes, as many bad breath products claimed, but from the enzymatic actions of these particular bacteria.
Sulfur-producing, anaerobic bacteria are beneficial to the human body because they assist in digesting food and separating proteins from blood and dead mouth tissues. "Anaerobic" simply means they live in areas where minimal oxygen is present, such as the throat and tongue fibers. Essentially, these bacteria could be called the "garbage collectors" of oral debris and are a necessary part of human physiology. However, because sulfur-producing, anaerobic bacteria are so efficient at what they do, the sulfur produced as a result of the rapid protein breakdown is very intense and an overproduction of sulfur ensues, which causes bad breath.
In attempting to help his daughter, Dr. Katz discovered many other things regarding halitosis. For example, he found that many people report their bad breath is aggravated by medical conditions such as sinus problems that frequently cause dry mouth due to stuffy noses. Lack of saliva in the mouth creates a condition of extra protein on which anaerobic bacteria feeds. This is because saliva contains rich amounts of oxygen, which this type of bacteria finds inhospitable. Additionally, people who consume large amounts of protein in their diet can suffer from increased halitosis as well.
Working with this new-found knowledge, Dr. Katz founded the California Breath Clinics in 1993 and gave his patients a new type of product that effectively attacked these halitosis-causing bacteria as well as other oral health issues. Clinical testing of patients using his innovative products discovered that nearly 99 percent of those using TheraBreath® mouthwashes and toothpastes experienced a complete elimination of the chronic bad breath that once caused them embarrassment when interacting with other people.
Over a decade later, Dr. Katz is now the #1 expert on oral hygiene and halitosis. His book, the Bad Breath Bible, has been reprinted several dozen times, with two million copies currently in print. Currently sold in more than 60 countries, TheraBreath's success can be attributed to a component called OXYD-8 (chlorine dioxide) a formula consisting of pH-balanced substances that provide amazing and lasting results in eliminating bad breath and relieving a variety of oral health problems. OXYD-8 is a potent oxidizing agent that eradicates bad-breath causing sulfur compounds produced when bacteria breaks down oral proteins.
To learn more, visit http://www.therabreath.com.