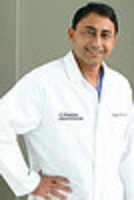 You are never too old to enjoy better vision.
Beverly Hills, CA (Vocus) April 21, 2010
San Fernando Business Journal did a research article on recent advances in vision surgery. They interviewed Los Angeles LASIK and Cataract expert Rajesh Khanna, MD for this feature article. The San Fernando Business Journal is an award winning publication that focuses on local news and business information. SFV provides their readers with information on the top local companies, business advice and breaking stories. The magazine is well respected and is widely read by residents in the Los Angeles area. The publication gives insight on a variety of issues including; finance, healthcare, real estate, technology and regional news.
Recently featured in the publication's December issue was Los Angeles LASIK surgeon; Dr. Rajesh Khanna M.D. The San Fernando Business Journal explored Dr. Khanna's advancing procedures and state of the art technology. Dr. Khanna's newest procedure PRELEX involves replacing the natural lens with a Presbyopic implant lens. The PRELEX procedure is used to correct presbyopia, or the condition that impairs one's ability to focus on near objects. This usually occurs in adults age 45 or older. The PRELEX procedure allows patients to see near, middle and distance vision; while also preventing the development of cataracts.
This advanced procedure is most popular with the baby boomer generation. Baby boomer patients have restored their vision to 20/20 and maintain healthy eyes as they age. Dr. Khanna explains, PRELEX; "Is the way of the future," it allows older adults to restore their vision without the use of glasses or contacts. "Many people who have worn glasses all their life and are now in their 50's are not wearing glasses or contacts for the first time in their life because of this procedure," says Dr. Khanna. The procedure itself takes only 7 minutes and uses advanced sound waves to replace the eye's natural lens while the patient is fully awake. The flexibility and ease of the procedure allows most patients to return to work and drive the following day.
"PRELEX is the combination of both cataract and LASIK surgery and requires the surgeon to be a corneal specialist," explains Dr. Khanna. Due to the advanced skill and technology required to perform PRELEX there are only a few select doctors who offer the procedure to their patients. In the coming years many predict that this procedure will become more readily available, as doctors discover the immense possibilities and positive outcomes of the PRELEX procedure.
Dr. Rajesh Khanna, is a Los Angeles LASIK and Refractive Cataract surgeon with offices in Los Angeles and Beverly Hills. He is the founder and medical director of The Khanna Institute of Lasik and Refractive Surgery. Dr. Khanna has been voted as the best LASIK surgeon by popular choice by readers of Los Angeles daily news and Ventura County Star. Dr. Khanna has performed vision enhancements on many celebrities and athletes alike. Those we are able disclose include actor Corbin Blue from High School Musical, Disney channel star Brenda Song, Olympic silver medalist Ryan Bailey and Bas Rutten- Inside MMA host and UFC champion fighter. Rajesh Khanna, MD has been featured on the front cover of various magazines like Your Health Connection, Life after 50, Valley news and Beverly Hills times. He has also been featured in Santa Monica Star, Acorn, India West, Opinion Express and numerous other publications. Dr. Khanna has been interviewed and quoted by various radio talk. He is one the pioneers of Lasik eye surgery and is currently at the forefront for advanced eye procedures. He is an experienced and skilled Wave front LASIK, Intacs, PRELEX and cataract surgeon, Dr.Khanna has performed over thousands of vision correction procedures.
Contact: Kelly Schneider Rajesh Khanna, MD Khanna Institute of Lasik Surgery 50 N La Cienga Blvd Beverly Hills 90211 Phone: 805-230-2126 Fax: 805-230-2199 http://www.khannainstitute.com
###