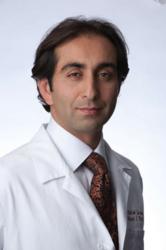 n the past, removing a thyroglossal duct cyst required a large incision, which left patients with a sizeable scar. Now the procedure is significantly less invasive and allows the procedure to be performed in an outpatient setting
Los Angeles, CA (PRWEB) February 02, 2012
New advances in surgical technique now allow Dr. Babak Larian, an expert head and neck surgeon in Los Angeles, to perform thyroglossal duct cyst removal as an outpatient procedure.
"In the past, removing a thyroglossal duct cyst required a large incision, which left patients with a sizeable scar. Now the procedure is significantly less invasive and allows the procedure to be performed in an outpatient setting, letting patients bypass all of the hassles of a big hospital," said Dr. Larian.
Thyroglossal gland cysts are predominantly seen in children, as it is a congenital defect. These cysts are fluid-filled sacs that appear as round masses protruding from the midline of the neck. Most commonly, they are about the size of a ping pong ball.
When the cyst grows or becomes infected, removal is necessary. New surgical techniques afford patients with minimal discomfort during the procedure. Additionally, Dr. Larian's minimally invasive technique yields an extremely low rate of complications and post-procedure side effects.
In addition to removing thyroglossal duct cysts at his Beverly Hills practice, the CENTER for Advanced Head & Neck Surgery, Dr. Larian has also performed this procedure several times during his medical mission trips. Many children in third world countries develop infections in their thyroglossal duct glands and Dr. Larian is able to relieve their pain through the simple removal procedure.
Dr. Babak Larian, the Chairman and the Director of the CENTER for Advanced Head & Neck Surgery in Los Angeles, is a highly experienced and reputable, board-certified ear, head and neck surgeon, specializing in ear, nose and throat surgery. Dr. Larian is nationally renowned for his expertise in minimally invasive surgery techniques in the treatment of sinus, thyroid, parathyroid, salivary glands and throat disorders.
For more information about the CENTER please visit http://www.AdvancedONC.com
###